There is much to say about the power of the human touch and in these unprecedented times we find ourselves in, many of us can relate to feelings of stress, anxiety or a deeper sense of disconnect as we absorb the overwhelming effects of isolation. Intuitively we all seem to have this strong desire to seek out positive human connections to help heal suffering, and one such connection might just be Reiki Healing, a form of energy healing from Japan focused on rebalancing energy levels within the body through human touch.
This page will explore the fundamental concepts of this intriguing healing phenomena, diving into the science behind this touch therapy, possible treatable conditions, what you might expect from Reiki treatments, as well as some tips and tricks to know before you go.
Table of contents
5 interesting facts about reiki healing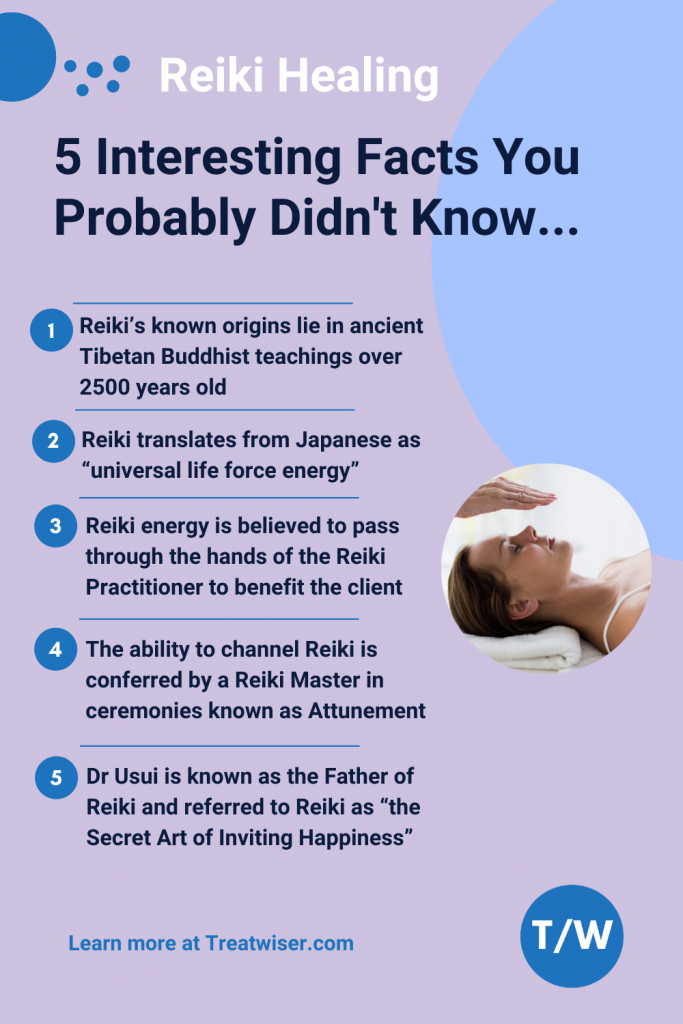 What is reiki healing?
"The Secret Art of Inviting Happiness" – Dr Mikao Usui ~ Father of Reiki
Reiki may sound "new age" to some, but it's anything but new.
Reiki (pronounced ray-key) literally translates from Japanese as "universal life force energy". It is based on an Eastern medicine belief that living beings have energy fields that support their health and vitality.
Reiki practitioners believe that this life force energy runs through everything, you and me, trees, flowers, crystals, the animal world, the oceans, the earth herself, the stars above. It is suggested that this energy (ki or chi) flows through channels of energy in the human body known as meridians, just as blood flows along our veins and arteries. Acupucturists work to rebalance ki/chi through the application of needles.
When you question the nature of energy, consider for a moment how radio waves reach you, how you take your WiFi connection for granted, how you simply expect light to appear at the click of a switch – and how the planets are held in their position in space… to mention just a few examples of energy you cannot see and yet produce physical effects in your world…
When applied to the body, Reiki may become a gentle and loving, yet profound force for healing. The essence of the delivery of Reiki involves laying the hands just above or on the body, working in a slow progression of hand positions to release the energy blockages in the patient. It is a particular gift of Reiki healing that it can also be sent to someone via Distant Healing.
The history of Reiki
The system of energy healing we know as Reiki today was developed by Dr Mikao Usui in Japan in the late 1800's, following many years of study of Ancient Tibetan teachings over 2500 years old. Dr Usui dedicated the rest of his life to healing and teaching and was decorated for this by the Emperor of Japan. Dr Mikao's most dedicated pupil was Dr Churijiro Hayashi. He simplified Dr Usui's system with his permission and introduced the Reiki Attunement (or Initiation) Process which used Symbols and Mantras to aid in understanding Reiki Energy. He also taught specific hand positions and specialised in giving group treatments to maximise Reiki effectiveness (today known as Reiki Sharing).
Madam Hawato Takata, who never met Dr Usui, became the first Reiki Master outside Japan and is credited with bringing Reiki to the West when she visited the US in 1937. Due to the abundance of anti-Japanese and anti-Asian sentiments in the United States around World War II, she shied away from using the name "Reiki", and dropped the energy practices.
She developed methods that simplified the original principles of Reiki and initiated 22 of her students as Reiki Masters, mostly Americans and one English woman. These Reiki Masters spread Reiki round the world. As a result, she was responsible for training over 2000 practitioners in her lifetime. In doing so, she bolstered its popularity as a form of complementary treatment.
Some Reiki Masters, however, continue to work with Reiki in its original form much closer to its original roots.
Today there are many thousands of Reiki Practitioners globally.
What is the theory behind reiki healing?
Reiki healing involves rebalancing the body's universal life force energy
Our body is designed to deal with certain levels of stress and to rebalance itself (homeostasis). However, sometimes in the case of prolonged or severe stress, the body needs help. Without help, our life force energy can become disrupted or blocked, and, if left untreated, illness or injury may follow.
During initiation Ceremonies known as Attunement, the Reiki Master works with Sacred Symbols to clear the energy system of those being attuned, and to bring them into greater inner harmony. This offers especially deep healing. Full Attunement consists of four Ceremonies both at Reiki Level 1 and Reiki Level 2.
Following Attunement and proper training, the Reiki Practitioner is then able to act as a clean channel or bridge through whom Reiki energy can flow to themselves and to others.
It is important to emphasise that the Reiki Practitioner/Master does not do the healing. Reiki is a catalyst for healing. It has its own intelligence and knows where it is needed. Reiki energy does not flow from Practitioners, but through them. They simply focus on the intention for healing, and then deliver Reiki energy to the recipient, which encourages harmony and restores order within their being as best outcome.
When and how is reiki applied?
Reiki healing may be beneficial in many scenarios
What is reiki healing good for? The relaxing nature of Reiki makes it beneficial in many situations. It can help to create emotional wellbeing, and is especially useful in cases where people feel lonely, isolated or disconnected. It can address fatigue, low mood, anxiety and pain. Reiki also works well alongside many western medicine practices.
Like any intervention, it is not a cure-all and should not be viewed as such. However, here in the UK we are seeing Reiki showing up in a variety of settings including private practice, GP surgeries, hospitals, hospices, cancer support groups, post-operative recovery, drug rehabilitation, prisons, HIV/AIDS centres and in the care of the elderly.
Given the results of Reiki treatment, pregnant women suffering from worry and stress during their pregnancy journey often see great benefits. So too do children and animals, who find the treatment very soothing and therapeutic if they are battling with any kind of trauma.
Reiki healing also promotes a healthy lifestyle
A sense of wellbeing is a key benefit of Reiki – in part through its key principles – which may increase chances of patients and followers making more sensible health-orientated lifestyle choices including reducing consumption of tobacco and alcohol products and increasing exercise and social interactions.
Reiki applies 5 key principles
Reiki practitioners and their clients are encouraged to follow The Usui Reiki Principles when living their lives:
Just for today, do not worry.
Just for today, do not anger.
Honour your parents, teachers and elders.
Earn your living honestly.
Show gratitude to everything.
Anyone may receive Reiki, but for some, Reiki can be the beginning of self-development and a spiritual journey, as they discover gifts within themselves. It should be noted that Reiki is not allied to any particular religion, but practiced by people from all cultures and callings in life, many of whom do not consider themselves religious in any way.
What is the evidence to support reiki?
There is still much to learn about whether and how Reiki works and understandably this form of healing is met with some scepticism. Although it is often claimed there is very little research to support the efficacy of Reiki, this is in fact untrue. (Please see Resources below)
For example, one study of 20 volunteers experiencing pain for a variety of reasons and taking conventional pain management medication found that Reiki treatment led to a "highly significant reduction in pain" (1).
Other research studies relating to treatment including Reiki have suggested that there are no reported negative effects. So, if this is a practice that makes you 'feel' good then why not give it a try!
What can I expect as a reiki client?
The reiki appointment
Ideally, your chosen Reiki Practitioner/Master should have an understanding of your reason for attending prior to arranging your first appointment. The Reiki Practitioner's room should feel inviting and safe on arrival.
As with many other holistic therapies, your Reiki Practitioner/Master will typically start the consultation trying to understand more about you, your lifestyle and your medical history. It is important that they take a proper history. Once he or she has been able to build up a solid understanding, a bespoke treatment plan can be created and discussed further. You should be asked for your informed written consent prior to commencing Treatment and be asked to sign for GPDR purposes of privacy of information.
Once you are ready to proceed to treatment, it is likely that you will be asked to sit or lie down on a comfortable seat or bed with supportive pillows and warm coverings. The curtains may be closed, and gentle music played. Ideally the Practitioner will request your permission to touch you. The Practitioner/Master will then proceed to place his or her hands gently on your body or hovering slightly above in a set sequence. The sequence will depend on the nature of your personal situation or condition. However, it is desirable for you to receive Treatments to both the front and back of your body, generally working from your head down to your feet.
Any touching from the Reiki Practitioner should feel soft, gentle and respectful. It is not designed to manipulate or massage. You will also be able to wear all your clothes during Reiki treatment. Following the Treatment, your Reiki Practitioner should ideally at least enquire gently about your experience, and ensure you are well hydrated and "back in the room" before leaving.
The way to best understand Reiki is to experience it for yourself, as the response is always highly individual…
How do I find a reiki practitioner/master and what qualifications should they have?
Reiki is an unregulated therapy in UK, meaning that there are no rules on who can practice and how. That said, there are various voluntary professional bodies which Reiki therapists / practitioners can be members of, including:
It is generally advised to find Practitioners/Masters who are members of one of the above bodies as they will require minimum qualification standards and ensure that all Reiki Practitioners/Masters adhere to a code of ethics.
Reiki Level 1 or First Degree is an introductory qualification that focuses on self-healing only. It is not a professional qualification.
It is important to ensure that your Reiki Practitioner/Master has completed training which allows him or her to work with Reiki on behalf of other people. This requires Reiki Level 2 or Second Degree Attunement & Training. They should also have Personal and Business Indemnity Insurance, and First Aid Training.
In Western Reiki Schools, Level 3 or Third Degree is considered as Reiki Master. Fourth Degree is generally recognised as Master Teacher. This Fourth Degree is taken to demonstrate a deep commitment to Reiki and enables Reiki Masters to teach and attune new Reiki Practitioners. Some Schools of Reiki train beyond these Degrees to Advanced Levels, and offer greater flexibility and scope in their Treatments.
Properly attuned and trained Reiki/ Masters will be able to show the Lineage to which they belong. It is important to find the right Reiki Practitioner for you. As well as finding out about their training and experience, ask to see Testimonials from their clients.
You can also use Treatwiser's directory to find a reiki therapist near me. Use the search features to narrow your search by location, professional body membership status, and more.
How much will it cost?
A one to two hour Reiki session will typically cost between £30 and £120, with differences driven by location and Practitioner's experience and training. More Advanced Reiki Masters may charge appropriately higher fees.
How many appointments will I need?
The number of appointments will vary from person to person depending on their health and the concern they have. Typically, more chronic or longer-term conditions will require more sessions. Although the immediate benefits of Reiki can be felt in a generally improved sense of wellbeing, Reiki is not a "quick fix" solution where there are deeper issues. The more you are willing to invest, the more you will benefit.
Your Reiki Practitioner or Master will be able to advise and discuss with you the number of appointments and spacing between them. Some Reiki Practitioners offer Reiki on an "ad hoc" basis, and others are more structured in the way they work., offering a progressive pathway.
How will I feel during reiki treatment?
Everyone will of course respond differently to Reiki depending on their individual circumstances. For some they feel heat or tingling during the treatment and some report seeing colours. For some, the experience brings up an emotional response. The most common response, however, is a sense of peace and centeredness.
Reiki tends to evoke relaxation in the patient, naturally bringing balance to both mind and emotion resulting in a greater sense of inner harmony, soothing the nervous system. Those who seek Reiki on a regular basis find the treatment encourages and supports many more positive personal choices in their lives. From eating a healthier more wholesome diet to incorporating recuperative exercises and movement into their daily lives as well as encouraging more time for self-care and self-love.
The ability to rebalance energy within the body can help to manage symptoms of anxiety, fatigue and in some cases even pain. But as mentioned Reiki is not a replacement for traditional medication or treatments. If you have a serious health concern it is important to visit your doctors or health care specialist.
What are the major risks associated with reiki treatments?
Reiki is the ideal complementary treatment, as its non-invasive attributes means it is safe to perform on most people. If you have a heart condition, epilepsy or diabetes you should discuss this with your Practitioner before treatment.
Still unsure whether or not Reiki is for you? Read our article on 10 Reasons to Try Reiki Today.
Resources and further reiki healing information
K. Olson and J. Hanson. "Using Reiki to Manage Pain: A Preliminary Report." Cancer Prevention and Control 1:2 (June 1997), 108-113
Bojan Jankovic Weatherly, MD, FACP, BSc Forbes Health "What Is Reiki and How Does It Work (https://www.forbes.com/health/body/what-is-reiki/)
DISCLAIMER: The Site cannot and does not contain medical / health advice. The medical / health information is provided for general informational and educational purposes only and is not a substitute for professional advice. Accordingly, before seeking any form of medical advice, diagnoses or treatment based upon such information, we encourage you to consult with your GP or other qualified health practitioner. You must never disregard professional medical advice or delay in seeking it because of something mentioned on this Site. The use or reliance of any information contained on the Site is solely at your own risk.