Physiotherapy is an evidence-based primary care therapy that's been around since the early twentieth century. Millions of people around the world are referred to or seek physiotherapy treatment each year for pain relief, physical rehabilitation, and injury prevention.
So, how can you find a qualified physiotherapist, and what can you expect during an appointment?
In this article, we'll explain what physiotherapy is all about. We'll also tell you what you can expect during a session, how to find a therapist, and how much it will cost you.
This guide will help you decide if physiotherapy is suitable for you.
Table of contents
5 interesting facts about physiotherapy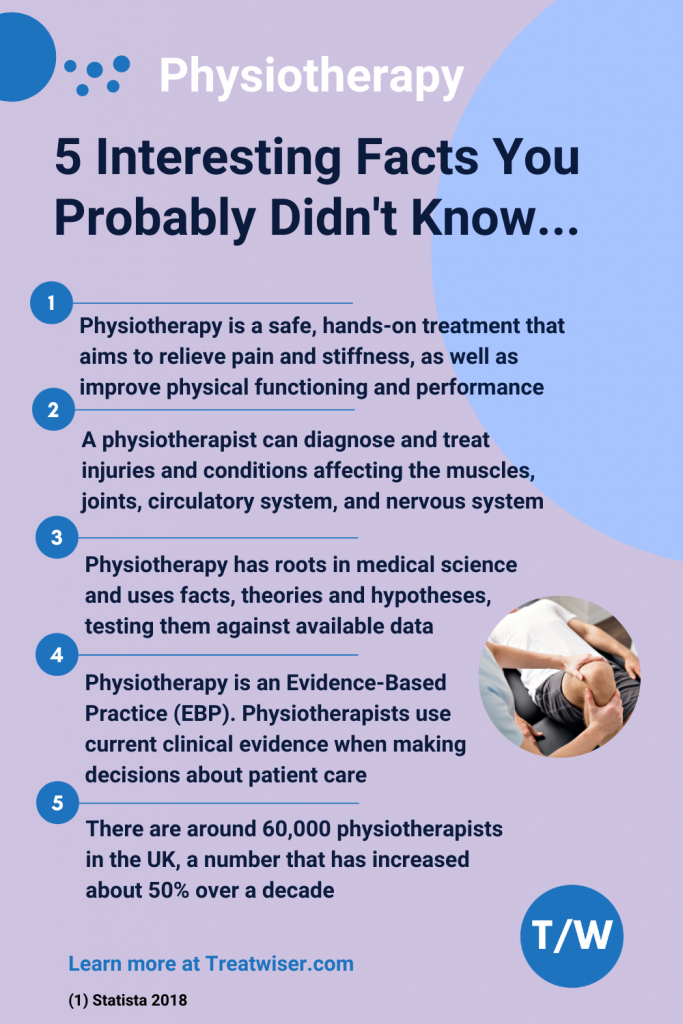 What is physiotherapy?
Physiotherapy is a safe, hands-on treatment performed by a physiotherapist.
It aims to relieve pain and stiffness and improve your overall physical functioning and performance.
A physiotherapist can diagnose and treat injuries and conditions affecting the muscles, joints, circulatory system, and nervous system.
What is the theory behind physiotherapy treatment?
Physiotherapy does have roots in medical science and uses facts, theories and hypotheses and tests them against available data. Various recognised and validated tests are in standard practice to assess a patient's muscle strength and range-of-motion.
When and how is physiotherapy treatment used?
Physiotherapy is a non-invasive therapy safe for people of all ages. It's most commonly used to treat musculoskeletal conditions and injuries.
Physiotherapists use manual techniques, movement, and prescribed exercises to restore strength, improve motor function, and relieve pain.
As a healthcare professional, a physiotherapist can diagnose certain conditions. Your physiotherapist will thoroughly assess you and may order diagnostic testing like X-rays before starting treatment.
In addition to manual therapy, physiotherapists educate patients about correct posture and exercises to prevent injuries and improve general well-being. They also work alongside doctors, nutritionists, and other healthcare practitioners in a variety of clinical settings.
Physiotherapy treatment is used in a range of situations
If you have a sports injury or undergo surgery, physiotherapy will likely be a part of your recovery program. However, doctors also recommend it to treat the side-effects of ageing and support people with respiratory diseases.
Patients commonly seek out physiotherapy for the following reasons, however you should always speak to your GP or qualified medical practitioner before booking any appointments:
Neck and back pain
Frozen shoulder
Carpal tunnel syndrome
Tennis elbow
Repetitive strain injuries
Sciatica
Sports injuries
Arthritis
Sprains
Tendonitis
Pelvic floor dysfunction
Pregnancy discomfort
Asthma and bronchitis
Cystic fibrosis
Poor circulation
Lymphoedema
Brain injuries
Spinal cord injuries
Muscular dystrophies
Parkinson's disease
Diabetes complications
Developmental delays
Spasticity
Sports physiotherapists also work with athletes to improve their physical performance.
Types of physiotherapy treatment
There are several different specialities within the field of physiotherapy.
Orthopaedic physiotherapy treats musculoskeletal conditions and injuries.
Sports physiotherapy focuses on preventing and treating sports injuries and improving physical mobility and performance.
Neurological physiotherapy is used for stroke treatment, brain injury rehabilitation, and chronic neurological conditions.
Cardiopulmonary physiotherapy specializes in rehabilitation and treatment of heart and lung conditions. Physiotherapists may also work with athletes to improve their cardiovascular endurance.
Women's health physiotherapy helps women prepare for and recover from childbirth. It also treats pelvic floor dysfunction.
Paediatric physiotherapy helps babies and children with developmental delays, neurological conditions, injuries, and musculoskeletal problems.
Geriatric physiotherapy is frequently used in circumstances relating to aging such as arthritis and loss of mobility.
Physiotherapy techniques
Physiotherapists use various techniques to relieve pain, improve mobility, and strengthen muscles. Core approaches include manual therapy, movement, education, and exercise.
Some of the most common techniques used in physio are:
Massage
Muscle and joint manipulation
Joint mobilization
Muscle stretching
Electrical muscle and nerve stimulation
Acupuncture
Dry needling
Cupping
Ultrasound therapy
Hot and cold therapy
Hydrotherapy
In addition, therapeutic exercises are usually recommended to improve balance, strength, and range of motion.
What is the evidence to support physiotherapy treatment?
Physiotherapy is an Evidence-Based Practice (EBP). Physiotherapists use current clinical evidence when making decisions about patient care1.
There are countless research studies to support physiotherapy when used as part of a comprehensive treatment plan. It's shown to be effective for musculoskeletal injuries2, post-surgical pain3, arthritis4, pelvic floor dysfunction5, and diabetes complications6 – among many other conditions.
What can I expect as a physiotherapy patient?
Let's take a look at what you can expect during a physiotherapy appointment and how to find a qualified physiotherapist.
The physiotherapy consultation
What do physiotherapists do? In your first appointment, the physiotherapist will take a thorough health history and perform a physical examination. They will then make a diagnosis and determine the best protocol for you. With your approval, treatment will start with manual therapy.
You are encouraged to wear loose clothing that is easy to move around in. During the assessment, you may be asked to remove some clothing and perform movements or stretches – but your comfort always comes first.
At the end of the first appointment, your physiotherapist may demonstrate and prescribe rehab exercises for you to perform at home.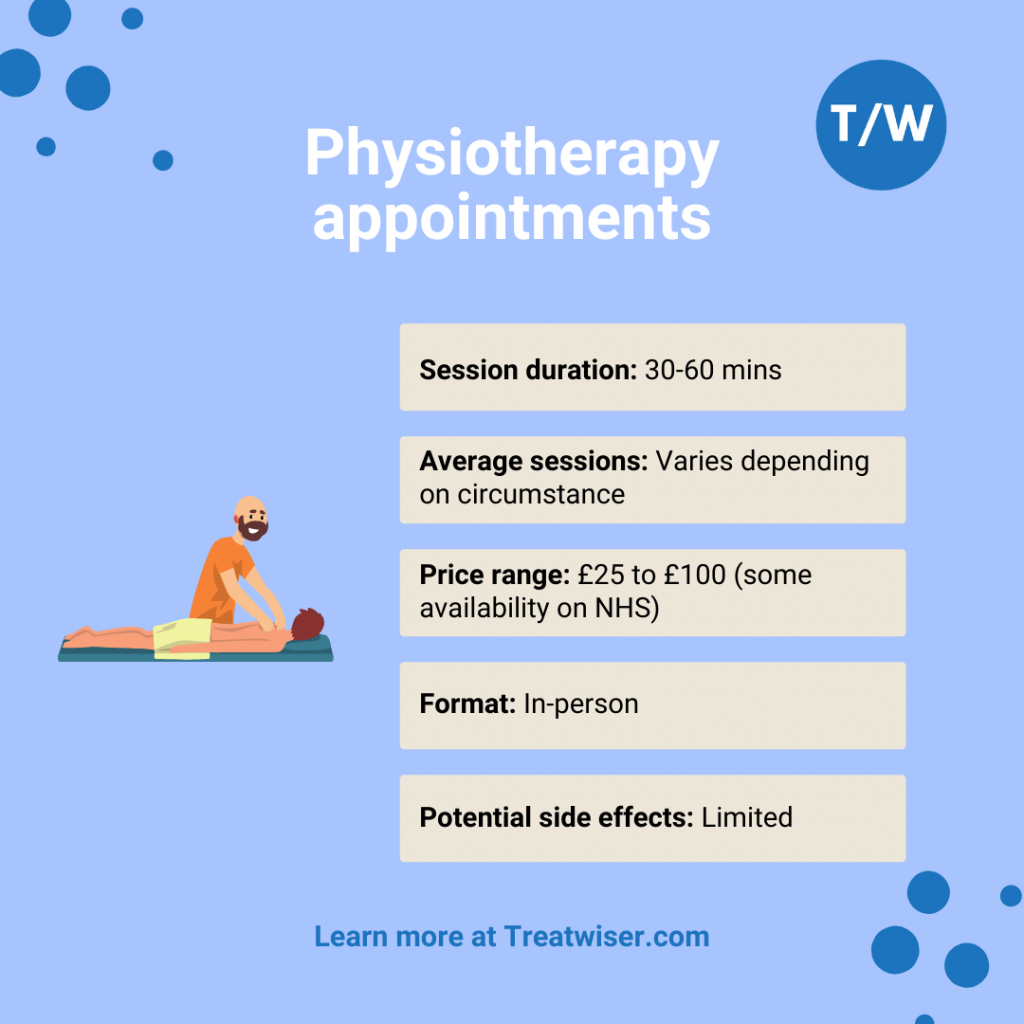 How do I find a physiotherapy professional, and what qualifications should they have?
Physiotherapy is a tightly regulated profession in the UK. Physiotherapists must – at a minimum – complete a three year BSc degree. However, many physiotherapists go on to complete their honours, master's, or doctorate to increase their expertise.
They also have to register with a professional regulatory body to practice. When looking for a qualified physiotherapist, check they are registered with one or both of these bodies:
Chartered Society of Physiotherapy (CSP)
Health & Care Professions Council (HCPC)
You can ask your GP for a recommendation for a physiotherapist in your area. We also suggest contacting the practitioner to find out if they have any areas of specialist interest.
You can also use Treatwiser's directory to find a physiotherapist near me. Use the search features to narrow your search by location (e.g., find physiotherapy near me in UK), professional body membership status, and more.
How much will it cost?
In the UK, physiotherapy is available free on the NHS. You will typically require a GP referral, but some NHS physiotherapists accept self-referrals in certain circumstances.
Unfortunately, the waiting list can be weeks or even months, and the treatment length is limited. For this reason, many people opt for private physiotherapy.
The cost of private physiotherapy varies depending on the type of treatment and the length of the appointment. Appointments can cost anywhere from £25 for 30-minutes to £75-£100 for 60 minutes. Contact your physiotherapist before your first appointment to discuss the estimated cost.
How many appointments will I need?
The length of physiotherapy treatment varies depending on your condition and needs.
If you're going to physiotherapy for injury rehab or as part of your chronic illness treatment, you may require weekly appointments over the long term. However, people with minor conditions – like tennis elbow – may only need 3-6 sessions.
Your progress will be assessed at each appointment, and the treatment plan adjusted based on your symptoms.
Do physiotherapy treatments hurt?
Physiotherapy shouldn't be painful. However, if you have a muscle spasm, an injury, or are recovering from surgery, manual treatment may feel uncomfortable at times.
A qualified physiotherapist will never use a technique that can injure you. But always speak up if the pressure they're using is painful.
What are the major risks associated with physiotherapy treatment?
Physiotherapy is a drug-free, non-invasive treatment that comes with minimal risks when performed by a qualified professional. However, while rare, there have been reports of poor supervision, incorrect techniques, and injuries.
Always ensure you consult someone who is qualified, registered with a regulatory body, and recommended by someone you trust.