You may think getting a massage is just a way to pamper yourself, but this couldn't be further from the truth! Massage therapy is a centuries-old form of bodywork that supports well-being and helps you feel renewed on a physical, mental, and emotional level.
In this article, we explore different massage techniques, how massage can improve your well-being and what to expect at an appointment.
Table of contents
5 interesting facts about massage therapy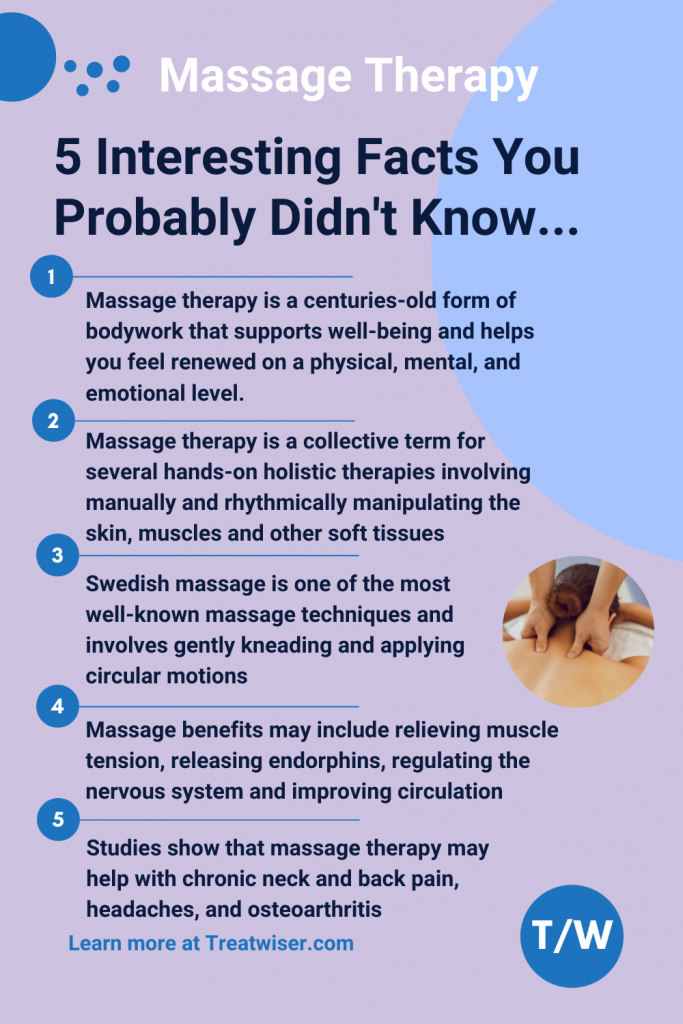 What is massage therapy?
Massage therapy is a collective term for several hands-on holistic therapies. It involves manually and rhythmically manipulating the skin, muscles, tendons, ligaments, joints, and other soft tissues using varying degrees of pressure.
While there are various types of therapeutic massage techniques, they all have a common purpose: to relieve tension and support the body's healing ability!
What is the theory behind massage therapy?
Although massage therapy is a form of complementary and alternative medicine (CAM), its benefits are widely accepted by the medical community.
So, how does it work?
Massage therapy relieves muscle tension
A massage therapist is trained to release muscular "knots" and spasms caused by chronic muscle tension and fatigue. By doing so, massage helps to improve your range of motion and mobility.
Additionally, massage helps to release tension in the fascia tissues surrounding muscles, which may become tight and painful. This may relieve pain, promote muscle recovery, and heal physical injuries.
Massage releases endorphins and regulates the nervous system
Massage therapy switches on the relaxation response and puts you into a parasympathetic nervous system state – otherwise known as a healing state. By doing so, it lowers stress hormones, blood pressure, heart rate, and breathing rate. This may explain why people feel deeply relaxed and often fall asleep during a massage.
Massage therapy may also blunt pain signals by encouraging the release of "feel-good" endorphins as well as "happy" brain chemicals like dopamine and serotonin. Human touch is a powerful thing!
Massage improves circulation and lymph flow
Massage manually stimulates the circulation of blood and lymph fluid around the body. It speeds up healing by increasing the delivery of nutrients and oxygen to the skin, muscles, tendons, and ligaments. This therapy also helps the body get rid of waste products like lactic acid and may reduce soft tissue inflammation and swelling.
When and how is massage therapy applied?
Massage stimulates the body's self-healing mechanisms and is used as a complementary therapy alongside conventional medical care. Each appointment typically lasts for 60-90 minutes.
Massage therapy is used in a wide range of situations
Many people visit a massage therapist without any ailments due to the stress-relieving benefits of this touch therapy.
However, therapeutic massage therapy is also used for the following reasons, however more research is required to support its efficacy, and you should always speak to your GP or qualified medical practitioner before booking any appointments:
Muscle spasms, pain, and stiffness
Sports injuries
Musculoskeletal injuries
Poor flexibility and mobility
Tension headaches
Fibromyalgia
Frozen shoulder
Nerve pain
Sciatica
Tendonitis
Carpal Tunnel Syndrome
Repetitive strain injuries
Circulation
Lymphoedema
Exhaustion
Mental and emotional stress
Anxiety and low moods
Poor sleep
There are many different therapeutic massage techniques
Massage techniques vary depending on the type of therapeutic massage being performed; most use the palms of the hands and fingers to relieve tension. Some therapists may also use their knuckles, forearms, and elbows.
Common massage techniques include:
Stroking
Gliding
Kneading
Pressing
Rubbing
Stretching
Tapping
Mobilizing
Manipulating
In Western societies, Swedish massage may be the most well-known massage technique. It involves gently kneading and applying circular motions to the muscles, tendons, and ligaments. Additionally, gliding strokes are performed in the direction of the heart. This gentle form of massage puts you into a deep state of relaxation and relieves superficial muscle tension.
Here are some of the other popular types of massage:
Deep tissue massage is a more intense version of a Swedish massage. It uses short, slow strokes and very firm pressure to work into the deeper layers of muscle. It's popular for removing muscular knots, breaking up scar tissue, and relieving pain.
Hot stone massage is a deeply relaxing technique that involves placing warm stones on specific areas of the spine. The warmth soothes the nervous system and helps to relieve tension while improving circulation.
Sports massage uses a combination of Swedish and deep tissue massage techniques to break up lactic acid, improve mobility and flexibility, and relieve pain and inflammation. It aims to improve muscle recovery and prevent sports injuries.
Lymph drainage massage stimulates the flow of lymphatic fluid by applying light strokes across the body – focusing on the lymph nodes in the neck, armpit, and groin areas.
What is the evidence to support massage therapy?
While massage therapy is not intended to cure any health conditions, studies show that massage therapy may relieve chronic neck and back pain, headaches, and osteoarthritis (1).
There is also promising research to support the use of massage therapy for:
Increasing joint mobility and range of motion (2)
Reducing muscle fatigue and delayed onset muscle soreness (3)
Improving anxiety, sleep quality, pain, and quality of life in people with fibromyalgia (4)
Triggering the relaxation response and lowering heart rate and blood pressure (5)
Improving sleep for menopausal women (6)
Improving the quality of life and pain relief in cancer patients undergoing conventional treatment (7)
What can I expect as a massage therapy patient?
The massage therapy appointment
At your first appointment, the therapist will ask you about your health history and ask you about your reasons for attending the session. Next, they will leave the room as you remove all your clothing except your underwear (women will be asked to remove their bra) and get under a sheet or blanket on a massage table. Your comfort is of utmost importance. The therapeutic massagers will keep you covered during the session, only removing the covering from the part of your body they are working on.
Using slightly warm massage oil to reduce friction, the therapist will use their palms, fingers, knuckles, and/or forearms to locate and release areas of tension and tightness. Varying degrees of pressure will be used depending on the area being massaged. You may feel some discomfort as tension is worked out, but the therapist will always check in with you. To create a relaxing atmosphere, they may adjust the lighting, play soothing music, and diffuse essential oils during the session.
At the end of the session, you will be covered up and allowed to get dressed in your own time. It's a good idea to drink plenty of water and take it easy for the rest of the day.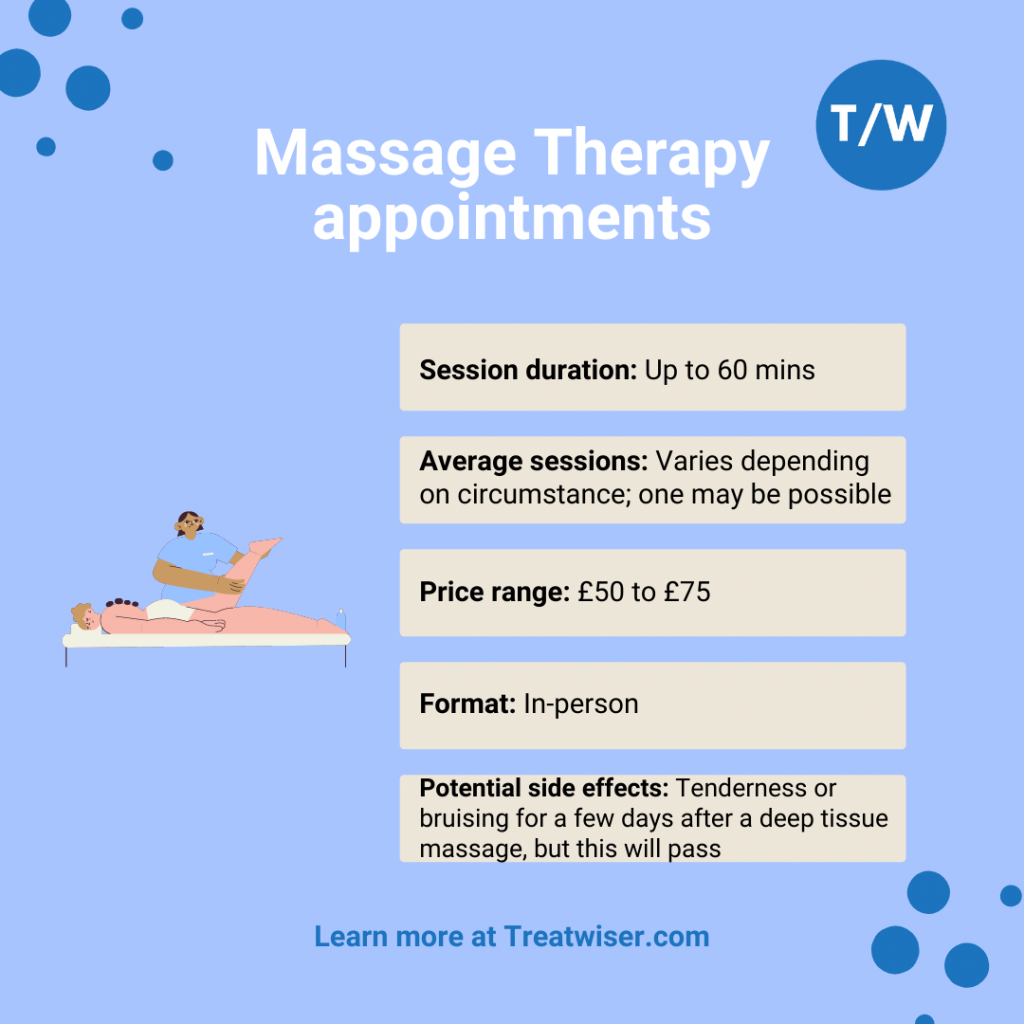 How do I find a massage therapist and what qualifications should they have?
In the UK, massage therapy is unregulated, which means there is no minimum training requirement. To ensure your therapeutic massager is qualified and abides by a code of ethics, check that they are accredited with at least one of the following voluntary registration bodies:
The General Council for Massage Therapies (GCMT)
The Complementary and Natural Healthcare Council (CNHC)
The Federation of Holistic Therapists (FHT)
It may be helpful to ask your doctor if they have a recommendation as many massage therapists work alongside conventional healthcare practitioners.
You can also use Treatwiser's directory to find a massage therapist near you. Use the search features to narrow your search by location (e.g., massage therapy in London), professional body membership status, and more.
How much will it cost?
The cost of a massage appointment ranges from £50–£75 per session. If the therapist travels to your home, there will likely be added travel costs.
Despite evidence that massage therapy helps with various health conditions, it is not currently available on the NHS. However, there may be exceptions for cancer patients receiving treatment in hospital.
How many appointments will I need and over what period?
The number of appointments you'll need depends on your circumstances. Based on the situation, your massage therapist will put together a treatment plan after your initial appointment. This may involve 1 session a week initially, tapering off to once or twice a month as your symptoms improve.
Many people without specific health concerns choose to go for an occasional massage to keep their physical and emotional well-being in check.
What are the risks associated with massage therapy?
Massage therapy is generally considered safe when performed by a qualified practitioner. Some people may experience minor tenderness or bruising for a few days after a deep tissue massage, but this will pass.
If you are pregnant or struggling with any of the following conditions, please talk to your doctor before visiting a massage therapist:
Cancer
Heart disease
A bleeding disorder
Blood clots
An active infection
Bone fractures
Open skin lesions or burns
Resources and further massage therapy information
DISCLAIMER: The Site cannot and does not contain medical / health advice. The medical / health information is provided for general informational and educational purposes only and is not a substitute for professional advice. Accordingly, before seeking any form of medical advice, diagnoses or treatment based upon such information, we encourage you to consult with your GP or other qualified health practitioner. You must never disregard professional medical advice or delay in seeking it because of something mentioned on this Site. The use or reliance of any information contained on the Site is solely at your own risk.