Bowen therapy is a gentle form of bodywork – and one of the fastest-growing complementary therapies in the UK.
In this article, we explore the origins of Bowen technique, how it works, and what you can expect at an appointment.
Table of contents
5 interesting facts of Bowen Therapy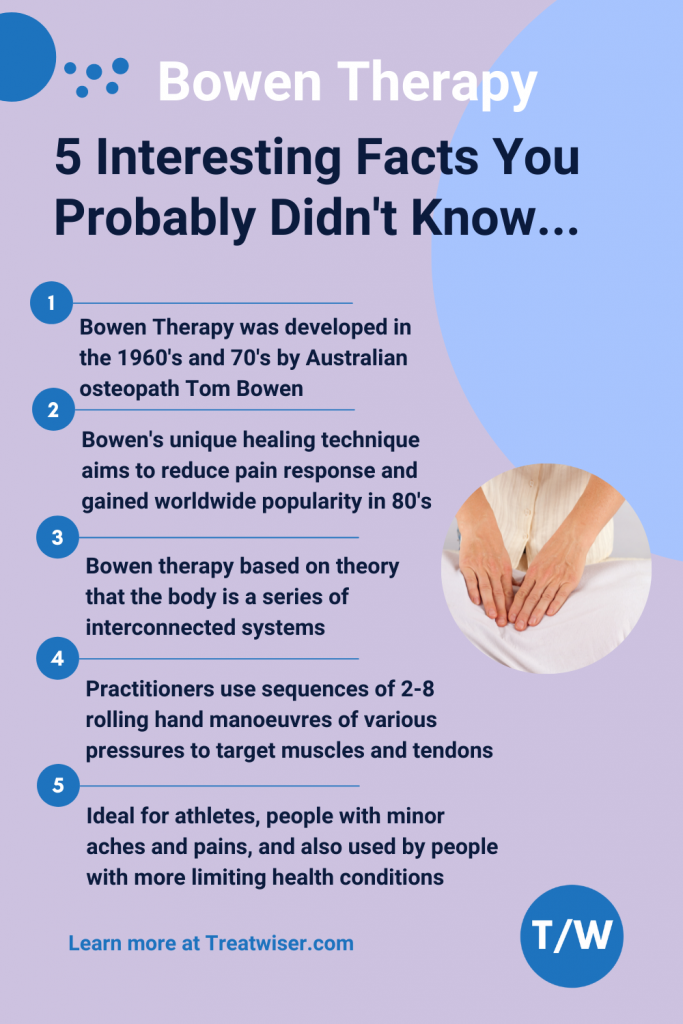 What is Bowen Therapy?
Bowen therapy is a hands-on holistic therapy that releases tension and restores balance to your body systems. The theory behind Bowen therapy is that health conditions are caused by energetic imbalances and tension in the fascia – the thin sheath covering the muscles. Bowen releases the tension and stimulates your body's self-healing mechanisms to reduce pain, inflammation, and muscle spasms.
Bowen therapy is gentle and suitable for people of all ages including Bowen for babies. It's ideal for athletes, people with minor aches and pains, or those dealing with more limiting health conditions. Your body is doing all the healing, and the therapist is just there to help the process along!
The origins of Bowen therapy
Unlike many alternative therapies, Bowen therapy is relatively new on the scene. However, it shares similarities with other forms of bodywork that aim to balance the nervous system.
It was developed in the 1960s and 70s by Tom Bowen in Australia. Originally an Osteopath, Tom Bowen developed a unique healing technique to reduce the pain response. Soon, he had hundreds of people seeking his services. This technique became known as Bowen therapy and has been taught and practised worldwide since the 1980s.
How does Bowen therapy work?
Bowen therapy sees the body as a collection of interconnected systems that affect one another.
Bowen therapy stimulates the parasympathetic nervous system
Bowen practitioners use gentle rolling movements using their thumbs and fingers to release muscle tension and stimulate your energy meridians. This influences nerve pathways, which activate your parasympathetic nervous system – the relaxation response. You need to be in this nervous system state for your body to heal.
Bowen treatment releases tight fascia
Bowen therapy movements involve gently working on the fascia – a thin sheath or membrane covering your muscles and connective tissue. It often gets tight and painful from ongoing life stressors. Practitioners perform small rolling actions along the fascia to unlock tension.
Bowen treatment encourages blood and lymphatic circulation
Although gentle, the hands-on Bowen movements stimulate your body's blood flow and lymphatic drainage. It brings new oxygen and nutrients to your tissues while rapidly removing waste products from your cells. This brings balance back to your system.
When and how is Bowen Therapy used?
Bowen techniques
Bowen practitioners use sequences of 2-8 rolling hand manoeuvres of various pressures. They use their thumbs and forefingers to gently move your skin and the tissue underneath it, targeting your muscles, tendons, ligaments, and fascia.
After each sequence, the practitioner leaves the room for 3-5 minutes to allow your brain and body to integrate and initiate the healing process. These short treatment breaks are integral to Bowen therapy.
Bowen therapy is used in a range of scenarios
Bowen treatment is most well-known for muscle pain and tension, but it is commonly used in a range of scenerios.
People commonly seek out Bowen therapy for the following reasons, however more research is required to support its efficacy, and you should always speak to your GP or qualified medical practitioner before booking any appointments:
Musculoskeletal pain
Joint pain and arthritis
TMJ
Repetitive strain injuries
Sports injuries
Poor mobility
Neuropathy
Allergies
Sinusitis
Headaches and migraines
Digestive problems
Hormonal imbalances
Anxiety
Asthma and respiratory conditions
Hormonal imbalances
Fibromyalgia
Chronic fatigue syndrome
Bladder problems
Poor immunity
Poor circulation
Lymphedema
Insomnia
In addition to easing aches and pains, people report feeling more relaxed, happier, and more energetic after a session.
What's more, Bowen therapy is often used for animals including for illness, pain, injuries and anxieties.
What is the evidence to support Bowen therapy?
There is limited research on the benefits of Bowen therapy. However, small studies have shown it to be beneficial for improving chronic musculoskeletal pain (1), frozen shoulder (2), and muscle flexibility (3). A pilot study found that Bowen technique may also improve neuromuscular function in stroke patients (4).
Research on hospital workers has found Bowen may reduce pain and improve mobility, energy, well-being, and sleep (5). This makes it promising for supporting mental and physical well-being in essential workers.
What to expect as a Bowen therapy patient
Bowen therapy sessions typically last 45-60 minutes. For the best experience, wear light, loose-fitting clothing for ease of movement.
The Bowen therapy consultation
Your first appointment with a Bowen therapist will last 60-90 minutes. The therapist will give you a glass of water while you sit down and discuss your health history, current symptoms, and health goals.
You'll then lie down on the therapy bed or sit in a chair as the therapist applies a set of light fingers and thumbs movements across various points on your body. All the Bowen techniques can be applied through light clothing, so there is no need to get undressed.
Your therapist will leave the room for a few minutes after each "set" of movements to allow your body to adjust to the treatment and enter a healing state. You'll be covered with blankets and encouraged to relax. Some people experience mild tingling or hot and cold sensations during Bowen treatment. This is a sign your lymphatic system and circulation have been stimulated.
At the end of the session, your practitioner will give you another glass of water and discuss your treatment plan with you before you leave. You'll also be encouraged to hydrate and rest regularly in the days after treatment.
How do I find a Bowen practitioner and what qualifications should they have?
Bowen therapy is unregulated in the UK, so you must do your due diligence. Make sure the practitioner you choose is qualified and comes highly recommended.
In the UK, most Bowen therapists train through Bowen Training UK. A Bowen therapist should register with an independent regulatory body like the Bowen Association UK and Bowen Therapy Professional Association (BTPA). This proves they have gone through appropriate Bowen therapy and anatomy training. It also ensures practitioners comply with a code of ethics and engage in regular Continuous Professional Development (CPD) courses. Practitioners who register with the BTPA may also register with the Complementary and Natural Healthcare Council (CNHC) if they meet the requirements.
You can also use Treatwiser's directory to find a Bowen therapist near me. Use the search features to narrow your search by location (e.g., find Bowen Therapy in London), professional body membership status, and more.
How much will it cost?
As an unregulated treatment, Bowen technique is not available on the NHS.
The cost of each session ranges from £35 – £65 for 45-60 minutes. However, the initial consultation may last 90 minutes and cost slightly more. Always ask your therapist for their rates before booking an appointment.
How many appointments will I need?
The number of appointments you need depends on how quickly your body responds to treatment. Most people need a minimum of 1-3 sessions in the first month to see an improvement. 3-6sessions are ideal for minor issues, but people with chronic conditions will need long-term treatment.
It's recommended you continue seeing your therapist every few months for "maintenance" even after you see positive results to support your well-being.
Do Bowen treatments hurt?
Bowen technique uses a very gentle technique that doesn't hurt.
What are the risks associated with Bowen therapy?
Bowen technique is a non-invasive approach with minimal risk when performed by a trained practitioner. Some people experience tiredness, stiffness, and headaches after a session. This may be your body releasing toxins during the healing process. Drinking water and resting are recommended after a session to avoid any side effects.
Resources and further Bowen Therapy information
DISCLAIMER: The Site cannot and does not contain medical / health advice. The medical / health information is provided for general informational and educational purposes only and is not a substitute for professional advice. Accordingly, before seeking any form of medical advice, diagnoses or treatment based upon such information, we encourage you to consult with your GP or other qualified health practitioner. You must never disregard professional medical advice or delay in seeking it because of something mentioned on this Site. The use or reliance of any information contained on the Site is solely at your own risk.