You may be familiar with hypnosis from over-the-top stage shows where people do all sorts of embarrassing stunts (while the crowd eggs them on). If that puts you off the idea of hypnotherapy, we don't blame you! However, hypnosis for entertainment is different from clinical hypnotherapy –  also referred to as clinical hypnosis.
Clinical hypnotherapy uses relaxation techniques and gentle suggestions to change limiting beliefs and behaviours.
Here are 10 reasons why you should consider getting hypnotised today.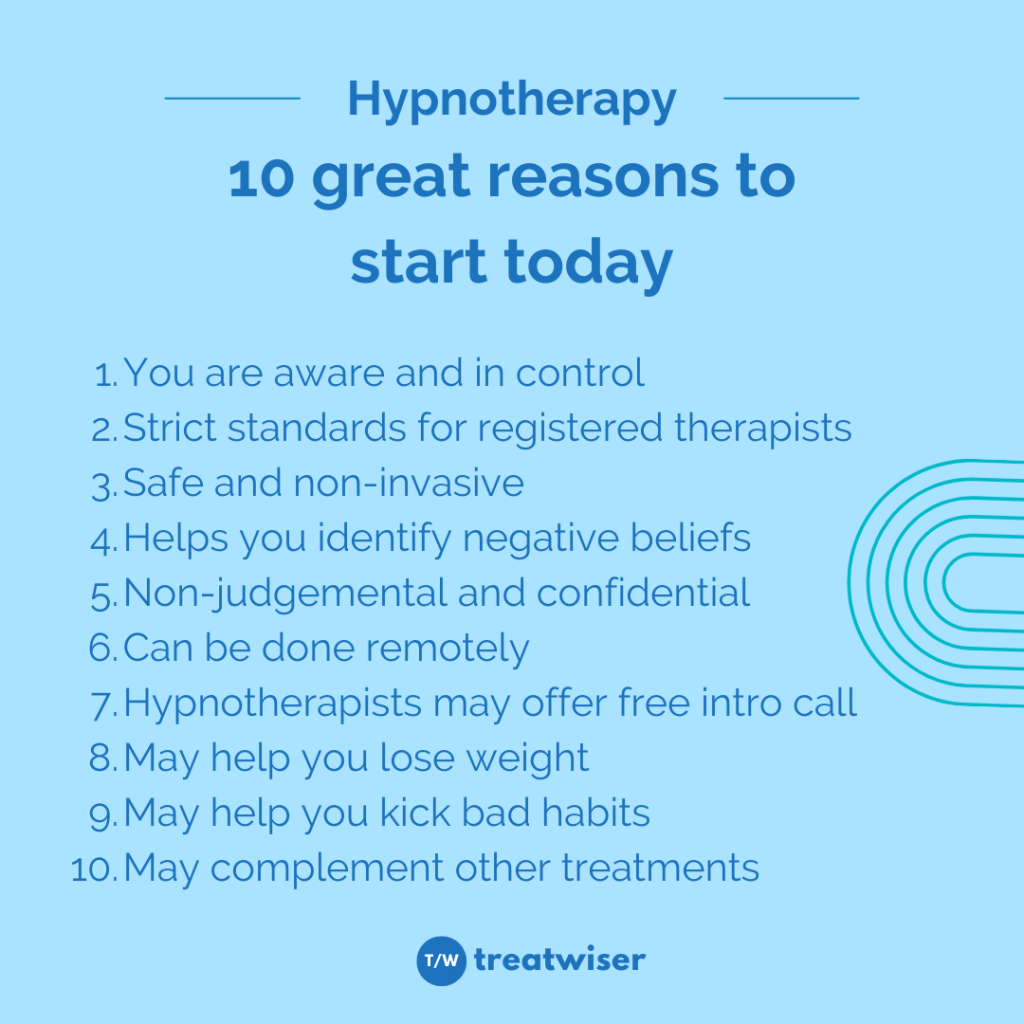 1. You are aware and in control during a hypnotherapy session
Hypnosis gets a bad rap by the media, and many assume it's "mind control." But that's not true.
Guided by a trained hypnotherapist, you enter a state of deep relaxation. But you are always in control during hypnotherapy, and you cannot be hypnotised against your will.
You will remember everything that happened during the session.
2. Registered hypnotherapists abide by strict professional standards
When finding a hypnotherapist, check that they are registered with a professional association like The National Council for Hypnotherapy (NCH). This ensures your practitioner adheres to a strict code of conduct, has completed the minimum level of training, and has comprehensive insurance.
Seeing a registered practitioner also means there is a root for recourse if you have a bad experience.
3. Clinical hypnotherapy is safe and non-invasive
Hypnotherapy is a drug-free, non-invasive complementary therapy safe for children and adults.
Therapists use a gentle approach to get you into a deeply relaxed state. However, you must want to be hypnotised (and feel safe) to get any benefit.
4. Clinical hypnotherapy helps you identify negative beliefs and thought patterns
During a clinical hypnotherapy session, your analytical, conscious mind takes a step back. Your subconscious mind, which is always running in the background, becomes easier to access.
In this trance-like state, a hypnotherapist can help you uncover deeply held subconscious beliefs and thought patterns that may be negatively impacting your life.
The therapist can redirect you towards more helpful thoughts, feelings, and behaviours using suggestion, neuro-linguistic programming, affirmations, and visualisation.
5. Clinical hypnotherapy is non-judgmental and confidential
You may uncover beliefs and past experiences under hypnosis, so hypnotherapists create a safe, judgement-free zone.
Whatever you and your therapist discuss, under hypnosis or not, is confidential, and you're safe to speak your mind.
6. Clinical hypnotherapy can be done remotely
If you can't travel easily, or prefer to consult with a therapist remotely, you can book an online session.
However, you'll need a quiet area to do your remote session, allowing you to reach a state of relaxation without being disturbed.
Your practitioner may also show you simple self-hypnosis techniques to calm your nervous system.
7. Many hypnotherapists offer a free intro call
The hypnotherapy profession understands how personal hypnotherapy is.
For this reason, many therapists offer free "discovery" calls to new clients. This allows you to talk to the therapist and ask them questions about their approach and fees before you decide if you want to embark on treatment.
8. Clinical hypnotherapy may help you lose weight
Clinical hypnotherapy may help you lose weight, which many other therapies have tried and failed to do.
Hypnotherapy gets to the root by addressing low self-confidence and other limiting beliefs that may be causing unhealthy eating behaviours. It may also help you make lifestyle changes and stick to healthy habits like exercising.
9. Clinical hypnotherapy helps you kick habits and addictions
If you're trying to kick a habit that won't budge with willpower – smoking, drinking, or biting your nails – clinical Clinhypnotherapy may break the cycle.
For example, your therapist may use the power of suggestion to influence your subconscious mind to associate smoking with something unpleasant – like a bad taste or smell. When you pick up a cigarette later, you'll be put off.
However, it's only effective if you want to quit.
10. Clinical hypnotherapy may complement other treatments
Clinical hypnotherapy is an all-natural therapy that's effective as a standalone treatment. However, it works beautifully with other holistic therapies and conventional medical treatments.
It also complements mental health therapies like cognitive-behavioural therapy, talk therapy, and emotional freedom technique (EFT).
DISCLAIMER: The Site cannot and does not contain medical / health advice. The medical / health information is provided for general informational and educational purposes only and is not a substitute for professional advice. Accordingly, before seeking any form of medical advice, diagnoses or treatment based upon such information, we encourage you to consult with your GP or other qualified health practitioner. You must never disregard professional medical advice or delay in seeking it because of something mentioned on this Site. The use or reliance of any information contained on the Site is solely at your own risk.