Traditional Eastern medicine has been used to heal people holistically for thousands of years. One of its most popular exports is Shiatsu massage, now practised in many countries around the world. So, what is Shiatsu massage, and how can it help you?
Shiatsu – pronounced shee-aytsu – massage is a holistic energy and acupressure therapy from Japan, with roots Anma, a traditional form of Japanese massage and more distantly in traditional Chinese medicine (TCM).
Let's explore 8 facts about Shiatsu, including Shiatsu massage benefits and uses: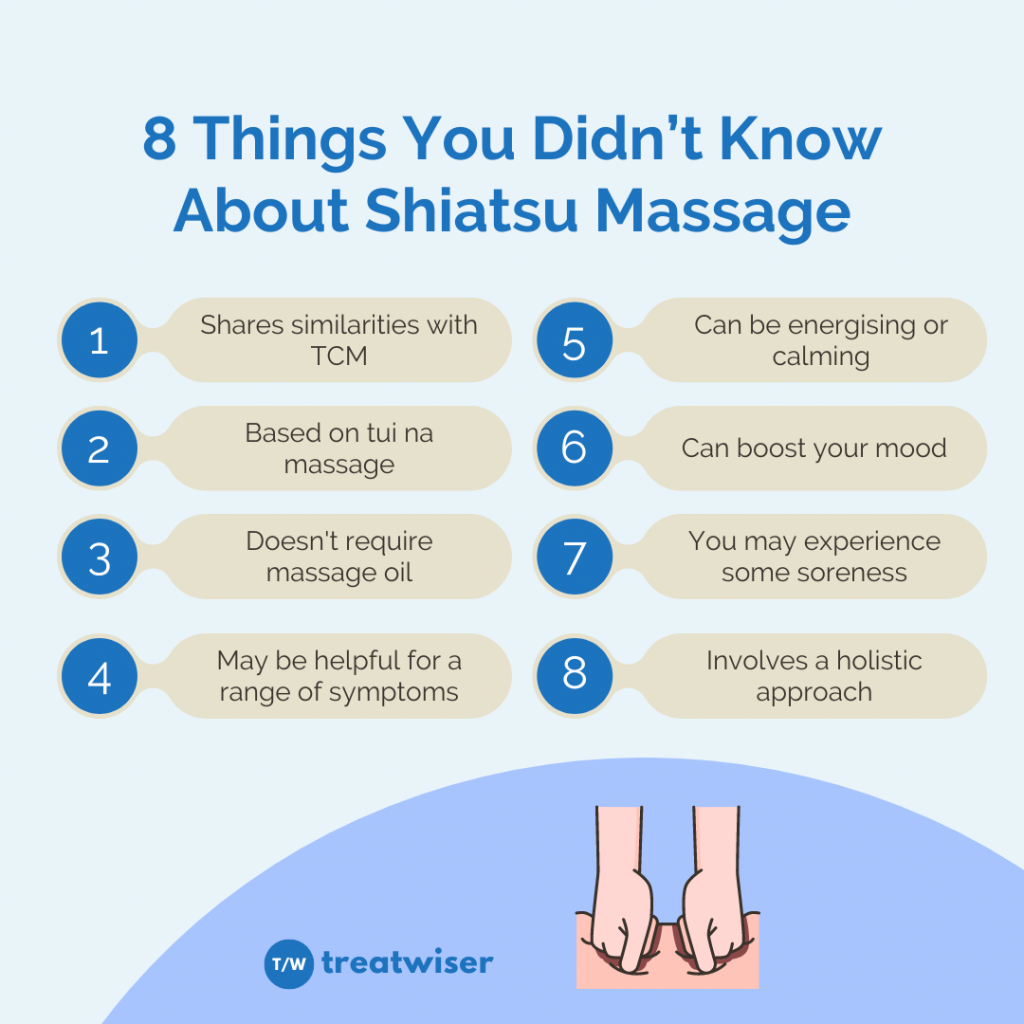 1. Shiatsu massage shares similarities with TCM
There are two main types of shiatsu massage: Namikoshi shiatsu and Masunaga shiatsu. The latter type of Shiatsu massage therapy follows the TCM theory that a network of invisible meridians transports vital Qi energy around the body. Stress and disease are believed to be caused by blockages in this energy meridian system.
By applying pressure to various acupoints on the medians, Shiatsu can identify Qi blockages and allow Qi to flow freely through your body.
2. Shiatsu massage is based on tui na massage
Shiatsu is a Japanese massage therapy developed after TCM came to Japan in the Middle Ages. Tui na massage (a TCM therapy) was brought to Japan, and Japanese bodywork therapists modified it into Anma massage. Shiatsu massage was developed from tui na and Anma, using similar techniques.
3. Shiatsu doesn't use massage oil
Unlike the regular full-body massage you get at a spa, Shiatsu doesn't use any massage oil. You don't even remove your clothes. If you're wearing loose clothing, you're good to go!
4. Shiatsu is helpful for a wide range of symptoms
Shiatsu massage treats muscle aches and pains, and research supports using Shiatsu as a complementary therapy to improve back pain1.
While it does not diagnose or cure any condition, Shiatsu may also help symptoms such as:
Arthritis
Sore muscles
Headaches and migraines
Injuries
Fibromyalgia
Poor posture
Allergies
Anxiety and depression
Digestive disorders
Fatigue
Insomnia
Premenstrual syndrome (PMS)
Low libido
5. Shiatsu can be energising or calming
Masunaga shiatsu adapts different manual techniques to your needs. For example, if your energy is low, the therapist will apply energising and dynamic techniques to revitalise your Qi and enhance yang energy.
If you're anxious, hot, or wound up (more yang energy), the session will help you relax. This may include holding, stretching, and gentle kneading techniques. You should leave the session feeling more balanced.
6. Shiatsu can boost your mood
A Shiatsu massage can lift your mood and reduce stress. Studies show it lowers anxiety associated with traumatic injuries like burns2. It may also boost the feel-good brain chemicals serotonin and dopamine, which promote happiness and motivation.
7. You may experience some stiffness after Shiatsu
The meaning of shiatsu massage is 'finger pressure.' People are normally treated on a massage table, low massage couch or bed where the therapist uses their weight to apply deep pressure to release toxins and encourage healthy blood circulation and lymph flow.
Shiatsu massage is not supposed to hurt. Practitioners apply a soft, deep pressure, which is totally painless. In a small number of cases, patients may experience some muscle stiffness. This isn't dangerous and should disappear within a few days.
8. Shiatsu is a holistic approach
Your Shiatsu practitioner will take a health and symptom history when formulating your treatment plan. They may also suggest dietary changes and exercises to support Shiatsu treatment.
Resources
Kobayashi et al. (2019). Shiatsu for chronic lower back pain: Randomized controlled study. Complement Ther Med. Available at: https://pubmed.ncbi.nlm.nih.gov/31331579/
Mohaddes Ardabili et al. (2015). The effect of shiatsu massage on underlying anxiety in burn patients. Available at: https://www.ncbi.nlm.nih.gov/pmc/articles/PMC4298863/
 
DISCLAIMER: The Site cannot and does not contain medical / health advice. The medical / health information is provided for general informational and educational purposes only and is not a substitute for professional advice. Accordingly, before seeking any form of medical advice, diagnoses or treatment based upon such information, we encourage you to consult with your GP or other qualified health practitioner. You must never disregard professional medical advice or delay in seeking it because of something mentioned on this Site. The use or reliance of any information contained on the Site is solely at your own risk