Hypnotherapy is a non-invasive therapy used to enhance relaxation and well-being.
This complementary therapy helps you change limiting beliefs and behaviours through hypnosis.
In recent years, hypnotherapy has grown in popularity for treating chronic pain, phobias, panic attacks, and addictions. You can read more about the benefits and what to expect in our Essential Guide to Hypnotherapy.
Knowing how to find a good hypnotherapist is essential for a successful hypnotherapy journey.
Today, we'll explore expert tips on how to find a good hypnotherapist for your needs.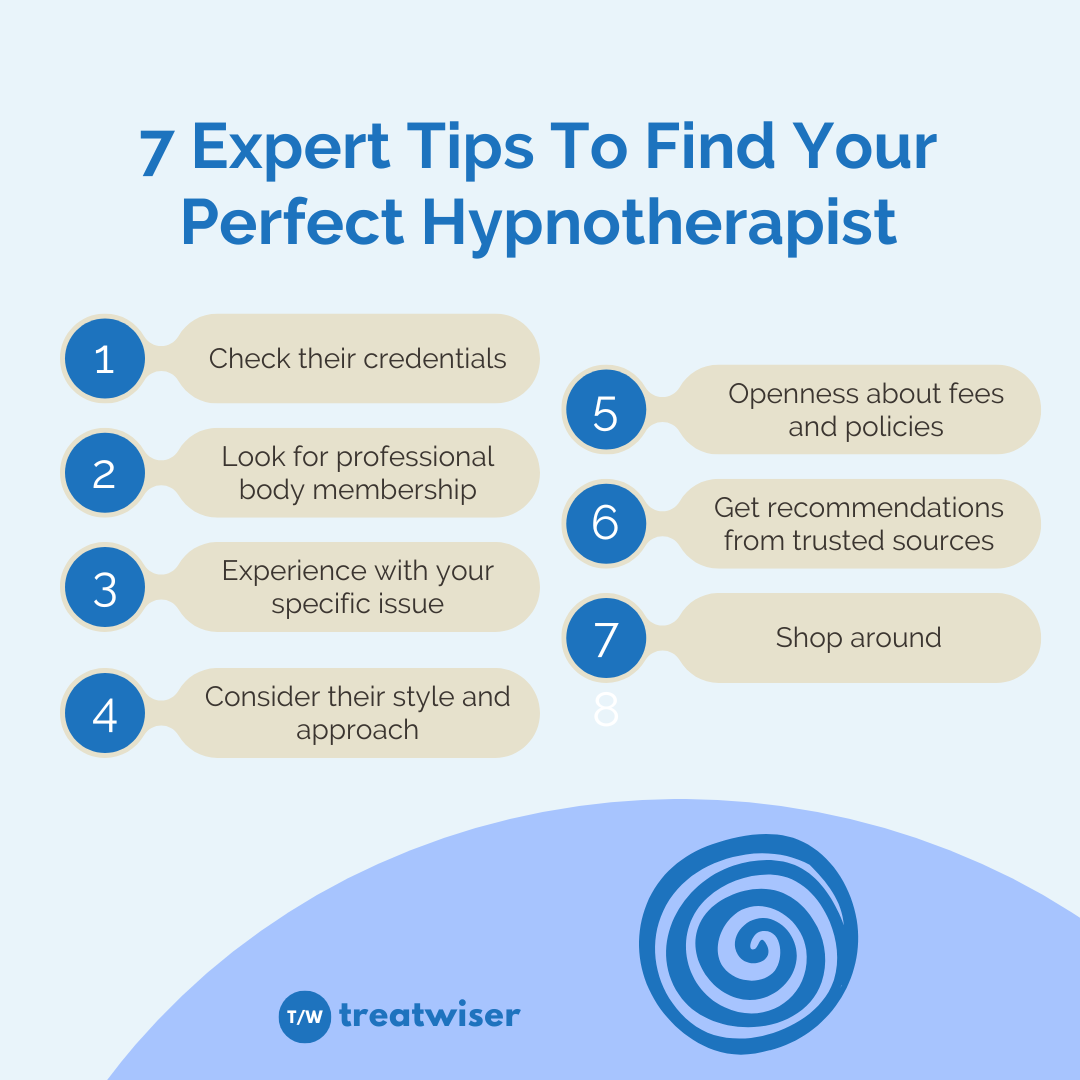 1. Check their credentials
The most important thing to consider when choosing a hypnotherapist is their credentials. Your practitioner should have thorough training and experience.
In addition, other qualifications in related fields – like medicine, cognitive behavioural therapy, kinesiology, or homoeopathy – are a bonus.
Most reputable practitioners state their qualifications on their website or business card.
2. Look for someone who is a member of a professional organisation
Hypnotherapy isn't regulated by law in the UK. However, professional regulatory organisations exist to ensure members meet high standards for practice and abide by a code of ethics.
Before you book an appointment with a hypnotherapist, check they have taken the step to register with a recognised professional bodies such as one of the following:
These organisations typically require members to have professional indemnity insurance and follow Continued Professional Development (CPD).
It isn't mandatory, but most qualified hypnotherapists understand the importance of registering.
3. Find someone who has experience working with your specific issue
The last thing you want when working with a hypnotherapist is to find out they have no experience with your specific issue. To avoid this situation, always find out the therapist's area of speciality before booking an appointment. You can ask how successfully they've treated your issue in the past.
4. Consider their style and approach
Some hypnotherapists use a directive approach where you have a passive role in the process. They give you direct suggestions while you're under hypnosis.
Others are permissive or conversational hypnotherapists, viewing the process as collaborative. In permissive hypnotherapy, the therapist uses open-ended suggestions and metaphors to make the session more organic and fluid.
Another style is regression hypnotherapy. The therapist guides you back to the past to address the root cause of the problem. In doing so, you can relive the memory and rewrite it to your benefit.
Ask the therapist what role you'll play in the process and their preferred hypnotherapy style. In addition, find out if they combine hypnotherapy with other therapies or techniques.
5. Look for someone open about their fees and policies
Transparency is essential in any business – and hypnotherapy is no different.
Before making an appointment, find out the therapist's fees, availability, methods of payment, and cancellation policy. Some hypnotherapists offer a free initial consultation or a "discovery" call to discuss your issues and health goals. This is helpful to see if you have rapport.
Be wary of therapists who ask for payment upfront or require you to pay for a package of sessions.
6. Get recommendations from trusted sources
Getting personal recommendations from trusted friends, family members, and colleagues is a great way to find a good hypnotherapist.
If you don't want people close to you to know you are looking for a hypnotherapist, you can ask for a referral from your primary care doctor or mental health professional.
We also encourage you to look through practitioner listings on directory sites – like our Treatwiser Practitioner Directory. Most directory sites list practitioners who provide proof of training and proof of registration with a professional regulatory association.
7. Shop around
Recommendations from trusted sources are helpful, but having a therapist who makes you feel confident and comfortable is most important.
We advise you to shop around and "interview" more than one therapist to find a good hypnotherapist for your needs. Notice their listening skills, willingness to answer questions, passion for hypnotherapy, and understanding of your issue.
The success of your treatment depends on your confidence in the therapist's abilities. Don't be afraid to switch your hypnotherapist if you don't feel like you're progressing after 2-3 sessions.
Final Thoughts on How to Choose a Hypnotherapist
In summary, to find a good hypnotherapist, you need a two-prong approach. Firstly, you want to research the therapist's qualifications and whether they belong to a professional organisation. Secondly, shop around, ask for recommendations from people you trust, and talk to the therapist to find out their payment policies. Above all, trust your gut instinct!
If you want to know how to find a hypnotherapist easily, check out our Treatwiser Practitioner Directory. All the therapists listed are fully qualified.
DISCLAIMER: The Site cannot and does not contain medical / health advice. The medical / health information is provided for general informational and educational purposes only and is not a substitute for professional advice. Accordingly, before seeking any form of medical advice, diagnoses or treatment based upon such information, we encourage you to consult with your GP or other qualified health practitioner. You must never disregard professional medical advice or delay in seeking it because of something mentioned on this Site. The use or reliance of any information contained on the site is solely at your own risk.