Animals are not immune to illness, pain, injuries, or anxiety. And it's upsetting when our four-legged friends don't feel their best!
A holistic form of bodywork used on humans is now making waves as an alternative therapy for animals. Bowen therapy for animals is a form of myofascial release ideal for treating dogs, cats, horses, cows, and other animals.
How does Bowen therapy work for animals?
Bowen is a holistic soft-tissue therapy developed by the Australian Osteopath Tom Bowen in the 1950's to support the body's self-healing mechanisms for adults, children and babies. In the late 90s, Bowen was adapted as a therapy for animals including dogs, cats, horses and cows. Animal Bowen Therapy is gentle and non-invasive, making it safe for animals.
Trained therapists use light finger movements to stretch and release tension from the fascia – the thin membrane covering animal muscle and other connective tissues. It improves circulation and lymph flow and stimulates healing by triggering the parasympathetic nervous system. Restoring balance relieves pain, soothes anxiety, and resolves behavioural problems.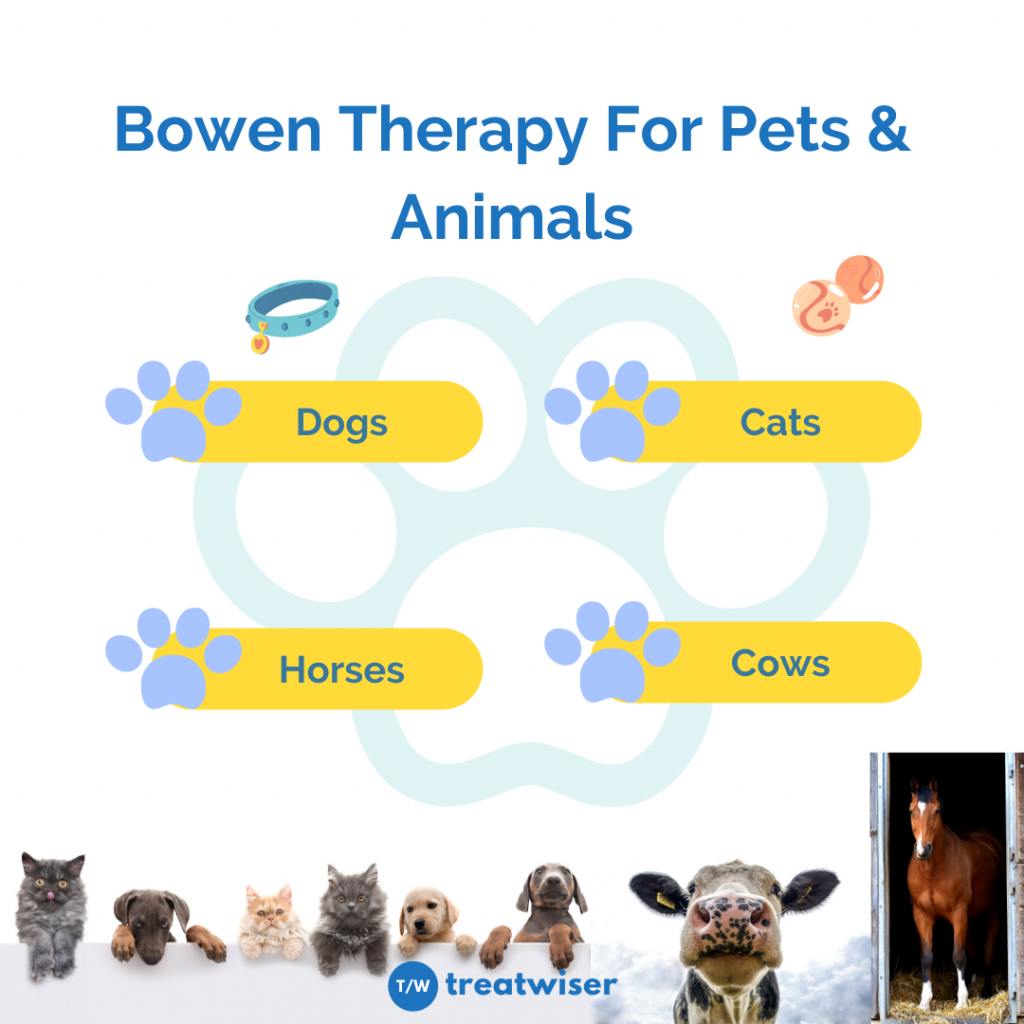 When is Bowen therapy used for animals?
Animal Bowen can help with:
Muscle spasms
Stiffness and mobility problems
Arthritis
Musculoskeletal injuries
Hip dysplasia
Behavioural problems
Lethargy
Anxiety
Digestive symptoms
Skin problems and itching
Low immunity
Change in temperament
Allergies
Poor balance
Skittishness
End of life support
Regular Bowen therapy helps prevent injuries, maintain mobility, and keep animals in peak health. It is great for working dogs and horses who need to be agile. However, it's not intended to diagnose, treat, or cure any health conditions. Talk to your vet before embarking on this treatment for your animal. It's not a replacement for veterinary care.
How does a Bowen session work for animals?
A Bowen therapist treats horses in their stable, while smaller animals like dogs and cats are treated in the therapy rooms. Some therapists make house calls if your animal is unable to travel. You're encouraged to stay with your animal to make them feel safe.
The session begins with the therapist taking your animal's health and symptom history from you. They observe your animal's movements and allow time for them to settle. They observe the animal's movements and allow time for them to settle. Gentle, rolling Bowen movements are applied to specific points on their muscles, ligaments, and tendons while they lie down or sit.
As with humans, animals are given breaks after every sequence of movements where they can lie down or walk around. This helps their body adjust and prevents them from getting overwhelmed. The therapist will stop when they sense the animal has had enough.
Animals usually love the therapy and may even go to sleep during treatment!
How long is a Bowen session for animals, and how many sessions are needed?
Each animal Bowen session lasts 45-60 minutes, but the hands-on treatment typically only takes about 20 minutes. During the first session, most of the time is spent getting to know the animal and making them comfortable.
The treatment length for animals is 2-3 sessions, ideally spaced 7 to 10 days apart. Some animals may require more sessions if their symptoms are chronic. In addition, animals with ongoing symptoms may need maintenance treatments every month or two.
In conclusion
Bowen therapy is a complementary therapy for improving the well-being of horses, dogs, and cats. During treatment, the therapist creates trust with your animal, helping to guide the session and improve the outcome.
Search our Treatwiser Directory to find a Bowen therapist who specialises in treating animals.
DISCLAIMER: The Site cannot and does not contain medical / health advice. The medical / health information is provided for general informational and educational purposes only and is not a substitute for professional advice. Accordingly, before seeking any form of medical advice, diagnoses or treatment based upon such information, we encourage you to consult with your GP or other qualified health practitioner. You must never disregard professional medical advice or delay in seeking it because of something mentioned on this Site. The use or reliance of any information contained on the Site is solely at your own risk.