If you've always wanted to try acupuncture but aren't a fan of needles, acupressure therapy may be a great option! It's a non-invasive form of bodywork that's been used in traditional Eastern medicine for more than two thousand years. Acupressure successfully treats a range of conditions, particularly when used for pain, tension, and nausea.
Keep reading as we explore how acupressure works, what the evidence says, and how it may help you.
Table of contents
5 interesting facts about acupressure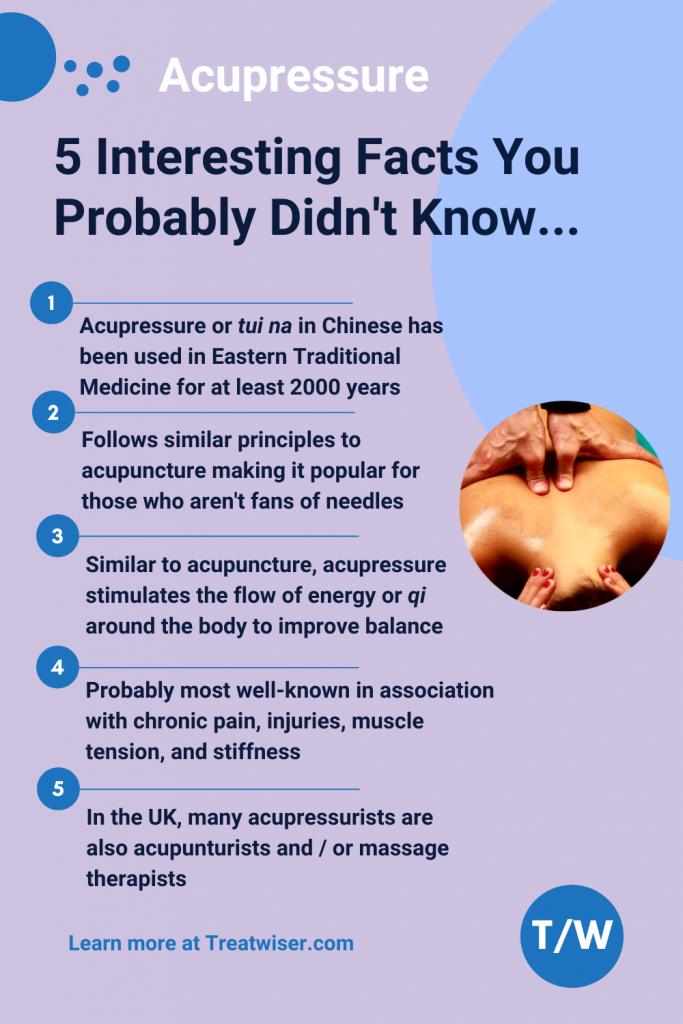 What is acupressure?
Acupressure – meaning "finger pressure" – is a complementary and alternative therapy (CAM) that uses the hands to manually stimulate acupressure points on the body. By massaging these points, this age-old therapy supports the body's muscular, circulatory, lymphatic, and energy systems.
It's a non-invasive and drug-free approach that is safe to use alongside allopathic medical treatments.
What is the theory behind acupressure?
Acupressure has roots in Chinese medicine and follows the same holistic principles as acupuncture, Shiatsu massage, Tui Na massage, and Shen Tao massage. It doesn't focus on the symptoms, but rather aims to engage the body's self-healing mechanisms, so you can return to a state of homeostasis or balance.
Acupressure therapy stimulates the flow of energy
Acupressure therapy believes subtle energies – also known as "chi" or "life force" — flow freely along invisible energy pathways along the body known as meridians. These meridians correspond with various organs and systems in the human body. There are at least 12 major energy meridians, and the points of acupressure lie along these meridians.
When the energy is circulating unimpeded, it results in good physical and mental health. Unfortunately, the flow of chi may become stagnant or "blocked", causing negative emotional states, low vitality, pain, illness, and disease. By manually manipulating the acupoints with acupressure, tension is released and vital energy is allowed to flow freely thro ugh the meridians.
Acupressure therapy stimulates feel-good chemicals
Many researchers believe that acupressure works by interrupting pain signals. Applying pressure to the skin sends a calming message to the nervous system, encouraging the release of "feel-good" brain chemicals. In doing so, it allows the body to move into a healing state.
Acupressure therapy promotes capillarization
What are acupressure points for? By applying mild to moderate pressure to acupoints, including foot acupressure points, a process known as capillarization is initiated. This results in new blood vessels (capillaries) forming in muscle tissue, improving circulation and encouraging cell repair. It leads to greater nutrient, oxygen, and waste exchange at a cellular level.
When and how is acupressure therapy applied?
Trained massage therapists, acupuncturists, or other holistic therapists often administer acupressure therapy. Acupressure points charts are used to guide them to address many different health concerns.
Acupressure therapy is used in a range of situations
There are several major acupressure benefits. Acupressure massage is probably most well-known for relieving chronic pain, injuries, muscle tension, and stiffness. People commonly seek out Acupressure for the following reasons, however more research may be required to support its efficacy, and you should always speak to your GP or qualified medical practitioner before booking any appointments:
Headaches
Stress relief
Cold and flu symptoms
Weight loss
Emotional healing
Circulation and lymph flow
Insomnia
Fibromyalgia
Chronic fatigue
Nausea
Premenstrual syndrome (PMS)
Stress and anxiety
Digestive conditions
Poor immunity
Allergies
Fertility
Sinus
Acupressure therapy uses a range of techniques
Acupressure therapists / practitioners may use their knuckles, fingers, thumbs, palms, arms, and elbows to tap on and hold specific acupressure points. Pressure is typically applied for up to two minutes on a single point and is repeated several times to get the desired effect. Therapists may also apply rhythmic kneading and stretching motions to the body to improve circulation, lymph flow, and pain relief.
There are a few forms of acupressure therapy
Tui Na massage is the most well-known form of acupressure massage. Firm, steady pressure is used on the acupoints and, in the case of musculoskeletal conditions, the muscles and joints may be manipulated.
Shen Tao is a gentle form of acupressure that uses light pressure with the fingertips only.
Shiatsu is a Japanese form of acupressure massage. Therapists / practitioners passively stretch the body and target acupressure points using their fingers, thumbs, palms, elbows, and knees.
Reflexology focuses on stimulating acupressure points in the hands, feet, and ears to encourage healing.
There's also some pieces of acupressure equipment that can be used from the comfort of your own house such as acupressure mats, acupressure massagers and acupressure slippers.
What is the evidence to support acupressure therapy?
There have been hundreds of clinical studies on acupressure. While it is a complementary therapy and should be used in conjunction with conventional medical care, there is significant evidence to support its use.
A systematic review published in the Journal of Pain and Symptom Management found that acupressure therapy was effective for (1):
Reducing nausea and vomiting during pregnancy
Minimizing unpleasant side-effects of chemotherapy such as nausea, vomiting, and fatigue
Relieving painful menstrual periods
Reducing labour pains
Improving sleep and reducing fatigue
Further research has found acupressure may help with lower back pain, headaches, and musculoskeletal sports injuries (2, 3).
What can I expect as an acupressure patient?
The acupressure appointment
Your first acupressure session will last roughly 60 minutes; subsequent sessions are typically 30-45 minutes long. It's recommended that you wear comfortable, loose-fitting clothing.
You'll fill in a medical questionnaire, and the therapist / practitioner will ask you about your symptoms. This is a holistic approach, so your lifestyle, mental and emotional stress, and health goals will all be taken into consideration.
The therapist / practitioner will have you lie on a therapy bed fully clothed as they identify your pressure points. They'll use varying levels of pressure to stimulate the points, often holding pressure over specific areas for 1-2 minutes and repeating the movements several times. It is normal to feel some discomfort and sensitivity, but make sure to alert your therapist / practitioner if it feels extremely painful.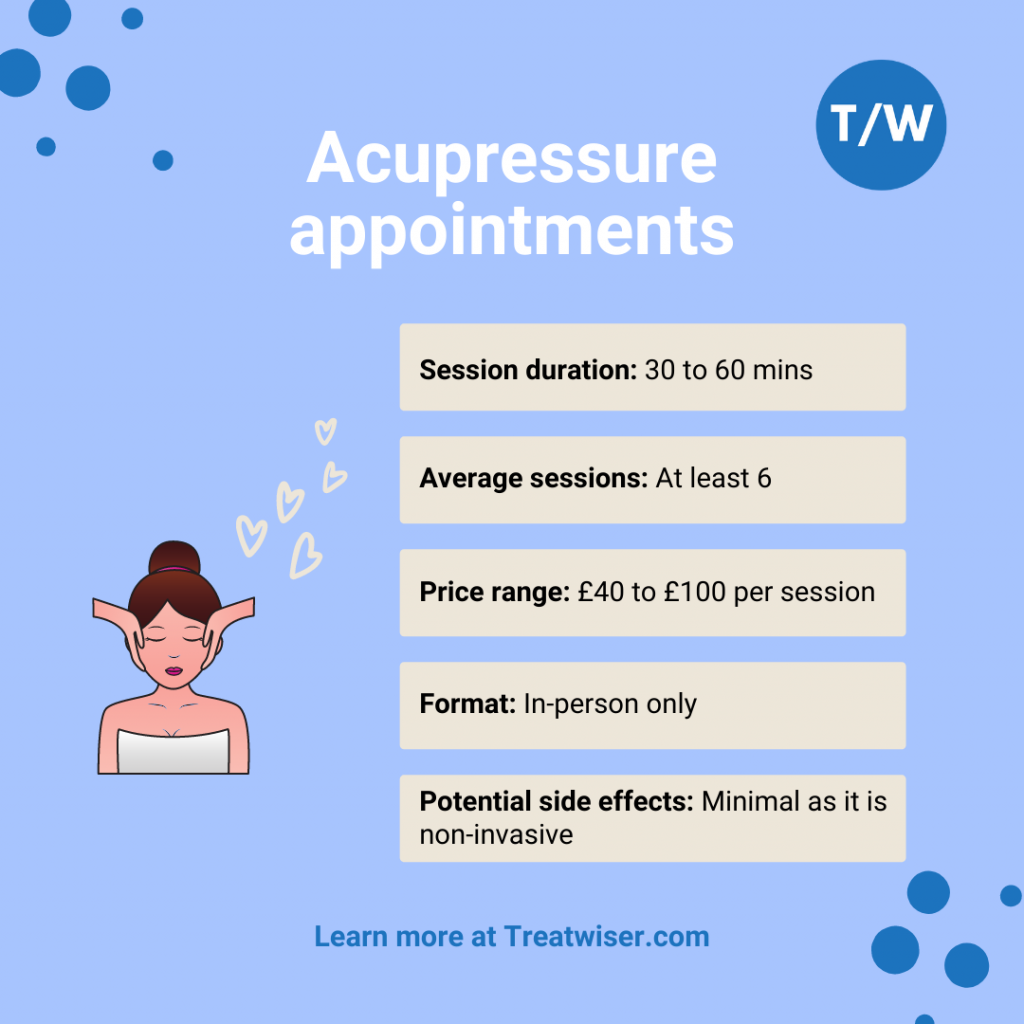 How will I feel afterwards?
Acupressure massage will likely make you feel relaxed and peaceful. You may experience some soreness for a few days after an appointment in the areas that have been stimulated, but this will pass. It's recommended you drink plenty of water after a session to assist the body with healing and detoxification.
How do I find an acupressure therapist and what qualifications should they have?
In the UK, acupressure therapy generally falls under the scope of acupuncturists and massage therapists. We suggest contacting the following professional bodies to find a therapist who has completed the qualification requirements:
You can also use Treatwiser's directory to find an acupressure therapist near me. Use the search features to narrow your search by location, professional body membership status, and more.
How much will it cost?
Acupressure massage is not available on the NHS. The cost of a session can vary widely depending on the therapist, and the length of the session – anywhere from £40 to £100 per appointment.
How many appointments will I need?
Your therapist / practitioner will discuss a treatment plan with you after your initial consultation. This may involve weekly sessions for 6 weeks initially, followed by maintenance sessions to keep you feeling good.
Some people benefit from just one or two appointments, while others need more regular treatments to see results.
What are the major risks associated with acupressure treatments?
Acupressure is a gentle, non-invasive therapy that is considered safe when performed by a qualified therapist / practitioner.
However, if you are pregnant, speak to your doctor before beginning acupressure as certain points may encourage labour.
Resources and further acupressure information
DISCLAIMER: The Site cannot and does not contain medical / health advice. The medical / health information is provided for general informational and educational purposes only and is not a substitute for professional advice. Accordingly, before seeking any form of medical advice, diagnoses or treatment based upon such information, we encourage you to consult with your GP or other qualified health practitioner. You must never disregard professional medical advice or delay in seeking it because of something mentioned on this Site. The use or reliance of any information contained on the Site is solely at your own risk.