If you're looking for a form of bodywork that applies traditional Chinese medicine (TCM) principles, you may be interested in tui na massage.
So, what is tui na massage exactly?
Tui na – pronounced twee-nah – massage is one of the oldest forms of Chinese bodywork. Such hands-on techniques target Chinese energy meridians and acupressure points, encouraging the free flow of vital Qi (your life force) around the body. It also stimulates circulation and lymph flow and may ease musculoskeletal tension.
Here are 8 facts about tui na massage to help you decide if it's right for you: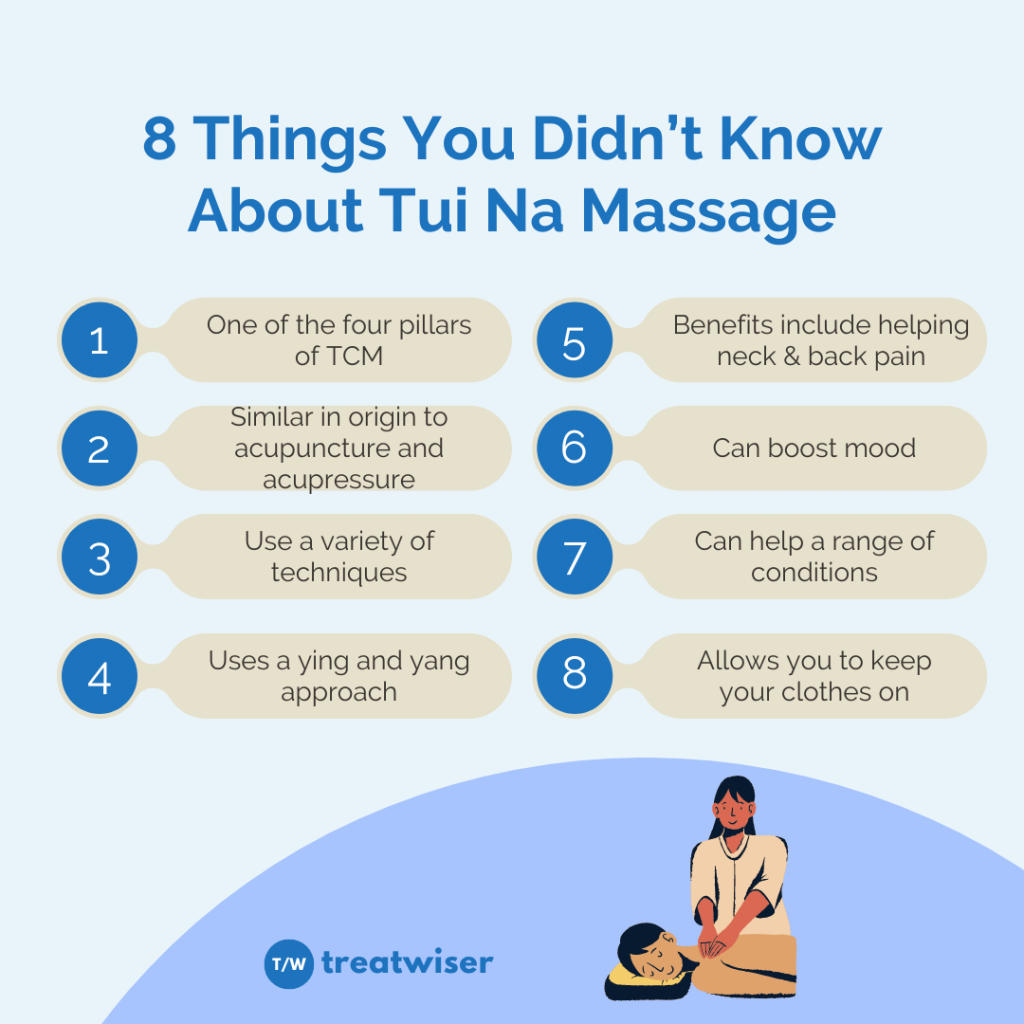 1. Tui na is one of the four pillars of traditional Chinese medicine
So what is Tui na massage? Tui massage is one of the oldest forms of bodywork, and it makes up the four pillars of TCM with acupuncture, qi gong, and Chinese herbal medicine. These therapies all follow TCM principles, working to increase the flow of vital Qi throughout the body. It has gone on to influence Japanese shiatsu massage.
2. Tui na massage is like acupuncture and acupressure
As with acupuncture and acupressure treatments, tui na stimulates acupoints along the Chinese energy meridians. Instead of needles, therapists use their fingers, hands, and elbows to manually manipulate the acupoints and promote the flow of Qi through the body.
Tui na is often used with acupuncture or as an alternative when needles aren't appropriate.
3. Tui na massage uses various techniques
The meaning of tui na massage is "to push and squeeze". It's a nod to practitioners using their fingers, hands, elbows, arms, and even knees to apply pressure to acupoints and release tension.
Some of the techniques used may include:
Palpating
Pushing
Kneading
Rubbing
Rolling
Holding
Stretching
Mobilizing
Rotating
4. Tui na massage has a yin and yang approach
Yin and yang energies are concepts in TCM, which refer to the balance of energies present in all aspects of nature and life. Yin is quiet and passive, while yang energy is active and energetic.
Tui na uses techniques to balance yin and yang. Some movements are more dynamic and energetic, working deep into the tissues to move Qi and release tension. Other techniques are gentle and passive to calm the central nervous system.
5. Tui na massage benefits include helping neck and back pain
Easing muscle spasms and chronic pain are some of the many tui na massage benefits. It uses myofascial release techniques to relieve tension in membranes surrounding the muscles. This makes you feel good as new!
A 2018 study found tui na massage provided significant relief for people with chronic neck pain1. It may also be helpful for lower back pain when used in conjunction with core exercises2.
6. Tui na can boost your mood
Regular tui na massage is a form of self-care, and research shows it can reduce symptoms of depression.3 This is promising as it's safe and free from side effects.
7. Tui na massage can help a range of conditions
People seek tui na massage therapy to address a specific symptom or chronic condition. It may be helpful for:
Chronic pain
Joint inflammation and stiffness
Musculoskeletal injuries
Fatigue
Insomnia
Anxiety and depression
Headaches and migraines
Constipation
Diarrhoea
Allergies
Poor circulation
Hormonal imbalances
8. You keep your clothes on during Tui na massage
Tui na has perks for modest people – you remain fully clothed during the massage! However, wearing loose-fitting clothes helps the therapist mobilise your muscles and joints during treatment.
Resources
Pach et al. (2018). Effectiveness and Cost-Effectiveness of Tuina for Chronic Neck Pain: A Randomized Controlled Trial Comparing Tuina with a No-Intervention Waiting List. J Altern Complement Med. Available at: https://pubmed.ncbi.nlm.nih.gov/29072931/
Tang et al. (2016). Treating low back pain resulted from lumbar degenerative instability using Chinese Tuina combined with core stability exercises: A randomized controlled trial. Complement Ther Med. Available at: https://pubmed.ncbi.nlm.nih.gov/27062947/
Kwon et al. (2015). Trends of Tuina Therapy on Depression and Its Efficacy. Journal of Oriental Neuropsychiatry. Available at: https://www.researchgate.net/publication/283695260_Trends_of_Tuina_Therapy_on_Depression_and_Its_Efficacy_-based_on_CNKI-
DISCLAIMER: The Site cannot and does not contain medical / health advice. The medical / health information is provided for general informational and educational purposes only and is not a substitute for professional advice. Accordingly, before seeking any form of medical advice, diagnoses or treatment based upon such information, we encourage you to consult with your GP or other qualified health practitioner. You must never disregard professional medical advice or delay in seeking it because of something mentioned on this Site. The use or reliance of any information contained on the Site is solely at your own risk.