If you're interested in acupuncture therapy but feel squeamish about needles, acupressure massage is a great alternative. Shen Tao massage is a gentle form of acupressure great for newbies.
If you're about to start googling "what is Shen Tao massage" and "Shen Tao massage benefits" – don't!
We've got you covered.
Shen Tao is an ancient form of acupressure massage that relieves tension. It follows traditional Chinese medicine (TCM) theory that the human body contains various invisible energy meridians. These transport Qi energy – or the life force – throughout the body. Shen Tao gently stimulates specific points on the energy meridians – known as acupoints – to promote emotional and physical healing.
Let's explore 8 things you probably didn't know about Shen Tao massage.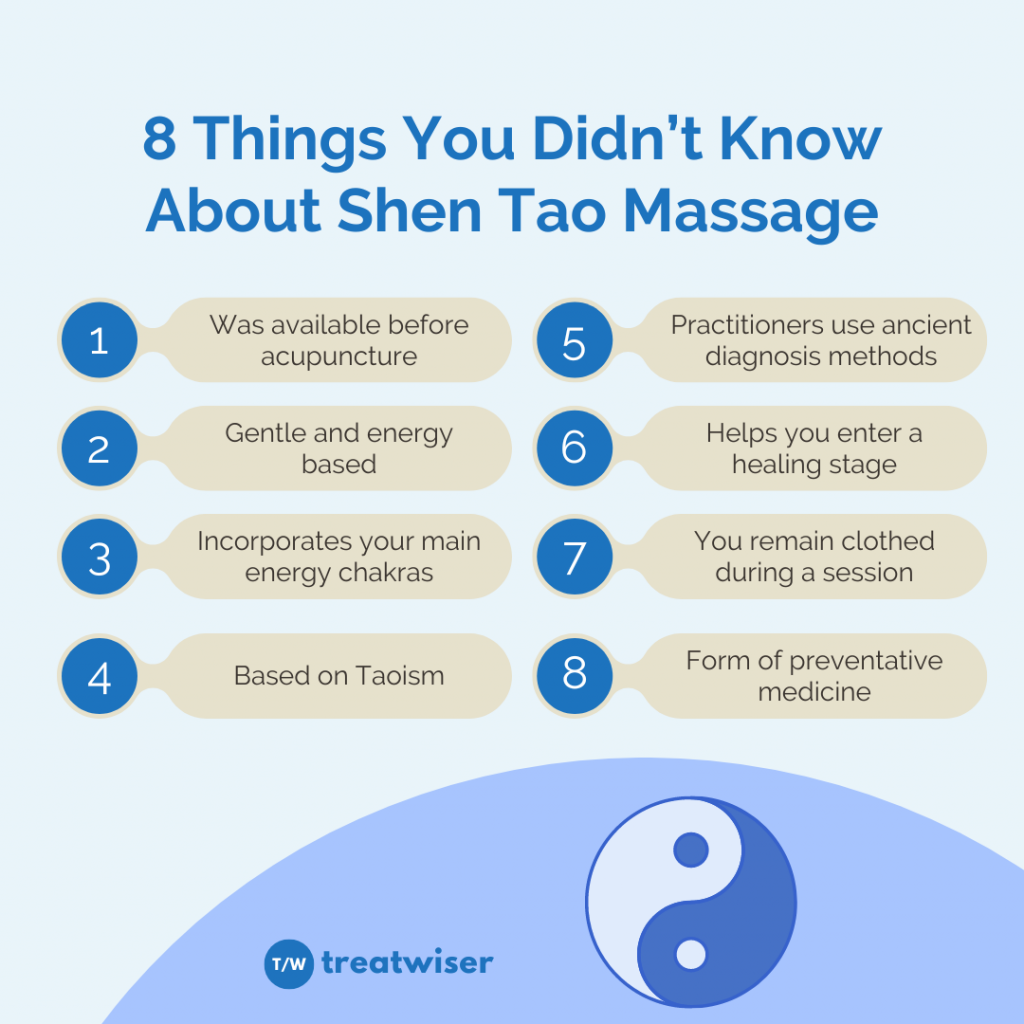 1. Shen Tao acupressure was around before acupuncture
Shen Tao comes from traditional Chinese medicine, an ancient Eastern healing system that's been in use for more than 5000 years.
Shen Tao is sometimes called the mother of acupuncture. The basic practice of stimulating acupuncture points was developed long before needles existed. However, acupuncture is more well-known nowadays.
2. Shen Tao massage is gentle and energy-based
The meaning of Shen Tao is 'The Way of Spirit'.
This translation brings to light its gentle, spiritual nature. And it is gentle compared to other forms of acupressure. It also incorporates energy work.
Therapists use both hands to softly hold two acupoints at a time, forming a circuit between your Qi system and theirs. This is sometimes known as the "dance of Qi" and fine-tunes your energy system.
3. Shen Tao incorporates the main energy chakras of the body
Shen Tao is a blend of acupressure massage and energy work. The subtle, gentle finger pressure used along the energy meridians during Shen Tao massage is believed to activate the energy centres – known as chakras.
Whether you believe this or not, these are the main energy chakras according to TCM:
The Crown Chakra
The Third Eye Chakra
The Throat Chakra
The Heart Chakra
The Solar Plexus Chakra
The Sacral Chakra
The Root Chakra
4. Shen Tao is based on Taoism
Shen Tao has roots in a religious philosophy called Taoism, which comes from China. It teaches that the universe contains a balance of two opposing energies: yin and yang. Taoists believe in living simply and in harmony with all living beings.
5. Shen Tao practitioners use ancient methods of diagnosis
Before the treatment, the therapist may use traditional methods of diagnosis from TCM. These methods include feeling your pulse and looking at your tongue to sense energy blockages and imbalances in your yin and yang energy system. It helps to guide the treatment.
6. Shen Tao helps you enter a healing state
Shen Tao massage is deeply soothing. It stimulates your parasympathetic nervous system, triggering the relaxation response you need to be in for mental, emotional, and physical healing.
Anecdotal evidence suggests Shen Tao can benefit symptoms and conditions, such as:
Chronic pain
Fatigue
Poor immunity
Allergies
Constipation
Digestive symptoms
Chronic stress and anxiety
Depression
Headaches
Insomnia
Hormonal imbalances
However, it's not intended to replace conventional medical care.
7. You remain clothed during a session
You keep your clothes on during a Shen Tao massage, which typically lasts 45-60 minutes.
8. Shen Tao is a form of preventative medicine
Regular Shen Tao acupressure massage is a preventative healthcare therapy. If you live a stressful lifestyle or are going through a difficult situation, visiting a Shen Tao therapist may reduce the risk of burnout and other stress-related health problems. Prevention is better – and cheaper – than cure.
DISCLAIMER: The Site cannot and does not contain medical / health advice. The medical / health information is provided for general informational and educational purposes only and is not a substitute for professional advice. Accordingly, before seeking any form of medical advice, diagnoses or treatment based upon such information, we encourage you to consult with your GP or other qualified health practitioner. You must never disregard professional medical advice or delay in seeking it because of something mentioned on this Site. The use or reliance of any information contained on the Site is solely at your own risk.