Living a balanced, healthy lifestyle requires a holistic approach to health, encompassing body, mind, and spirit.
This means protecting your mental and physical health rather than ignoring it until an issue pops up.
What is holistic living?
A holistic lifestyle is a "big picture" approach to nourishing your physical, mental, emotional and spiritual health. Holism sees the mind and body as one entity and looks to resolve the root cause of health issues.
It requires living in harmony with nature and being intentional with your thoughts, actions, reactions, and relationships.
Here are 14 holistic lifestyle tips for a more fulfilling life.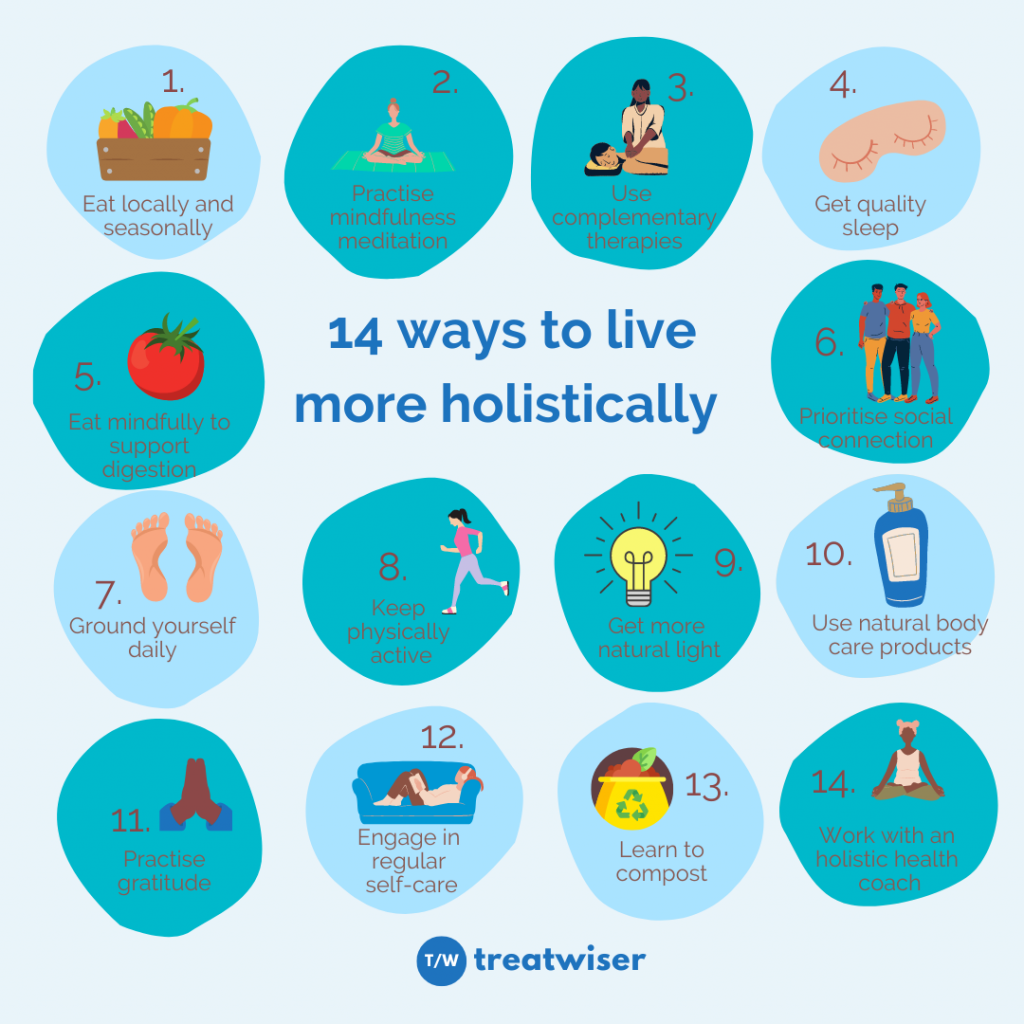 1. Eat locally and seasonally
Good nutrition is one of the pillars of a healthy holistic lifestyle. Food is fuel and medicine.
Eating regular, balanced meals using fresh, organically grown, whole foods is the foundation of good health.
Holistic health enthusiasts also emphasise local and seasonal eating to support the environment (and save you money).
Buy fresh fruits and vegetables from your local farmer's market.
Befriend local organic farmers for more affordable meat, eggs, and dairy options.
Grow vegetables and herbs if you have a garden or pots on your balcony.
2. Practice mindfulness meditation
Living in the now is the key to living a holistic life. After all, the only thing guaranteed in life is the present moment.
Mindfulness meditation is a tool that trains you to be in the present. It is the practice of noticing your thoughts, feelings, bodily sensations, and your environment without judgment.
A introductory mindfulness tip is meditating for 10-15 minutes a day as it may benefit your mood, attention span, and memory!1
3. Use complementary therapies
Complementary therapies are just that – complementary. They complement conventional medical care by stimulating your capacity to heal.
Here are some examples of complementary therapies that support healthy holistic living:
Reiki
Reflexology
Osteopathy
Chiropractic
Acupuncture
Acupressure
Massage therapy
Bodywork therapy
Hypnotherapy
Naturopathy
Nutritional Therapy
Homeopathy
You can use complementary therapies to support your body as you resolve a health issue or as preventative healthcare.
4. Get quality sleep
Getting enough restorative sleep every night – without dangerous sleeping pills or alcohol – is essential for recharging your body, mind, and soul.
Experts suggest we need at least 7 hours of uninterrupted sleep per night.
The best way to achieve this is to avoid artificial light from screens an hour before bed and create a sleep sanctuary. Remove digital devices from your bedroom, keep your room cool and dark, wear earplugs if necessary, and invest in good quality mattresses and pillows.
5. Eat mindfully to support digestion
Mindful eating is a form of mindfulness that involves eating without distractions and paying attention to the tastes, smells, and textures. This triggers the release of your digestive enzymes and prepares your system for digestion.
6. Prioritise social connection
Humans are social beings; we thrive in communities. Connection gives us a sense of belonging and safety, and research suggests2 it improves outcomes for people with cancer, diabetes, heart disease, and depression.
Hug your loved ones daily, make time for "friend dates", and arrange zoom chats with friends when you can't see them in person.
7. Ground yourself daily
Grounding, or earthing, is one of the simplest and most profound holistic wellness "hacks."
It involves physically connecting your bare skin to the ground – ideally grass, soil, sand, or water. The benefits come from the free electrons on the earth's surface. When you touch the ground, these electrons get snapped up by your body, where they stabilise harmful free radicals3.
Here's how you can ground yourself for better sleep, more energy, and less anxiety:
Kick off your shoes and get outside as often as possible
Get your hands into some soil by growing vegetables and herbs
Walk on the beach and swim in the sea whenever you can
8. Keep physically active (beyond just exercise)
Do you spend 90% of your time sitting at a desk, in your car, lying on the couch, and sleeping?
Staying active and lifting heavy things is essential for keeping you strong and flexible as you age – both physically and mentally.
Experts recommend engaging in thirty minutes of moderate exercise five times per week. That said, a holistic, active lifestyle goes beyond your daily workout.
Keep your body moving by taking the stairs, cycling instead of driving, playing with your dog, helping your friend move house, and getting up from your desk regularly.
9. Get more natural light
Being told to avoid the sun from a young age has led to a universal fear of sun exposure.
The truth is, regular (and safe) sun exposure is essential for vitamin D production, a healthy sleep cycle4, mental clarity, and a happier mood.5 Getting into the sun may even help you live longer.6
Start slowly by getting 10-15 minutes of unfiltered light when you wake up (this is also effective on a cloudy day). Eat outside on your lunch break when possible and go for walks in the sun if you can.
10. Use natural body care products
Embracing a healthy holistic lifestyle means paying attention to what you put in your body and what you put on your body.
Your skin is a porous organ, absorbing much of what you apply topically. Toxic chemicals in your everyday skincare and body care products can make their way into your bloodstream, increasing the toxic burden on your body.
Luckily, natural body care products are becoming more accessible. However, consider cutting down on your beauty products altogether and embracing yourself au naturel.
11. Practice Gratitude
Gratitude increases your life satisfaction, optimism, and well-being.7
You can incorporate gratitude into your daily routine by sitting quietly and becoming mindful of everything you are grateful for. It can be the smallest of things – like the feeling of the warm sun against your skin as you walk to work.
It doesn't just have to be good things. You can be grateful for challenges that have forced you to become more resourceful.
12. Engage in regular self-care
Self-care has become a buzzword but prioritising your mental and physical well-being is essential for holistic living. If you don't fill your cup first, you can't help others or show up in life as your best self.
Scheduling blocks of time in your diary every week for self-care helps to make it a habit. Get a massage, have a bubble bath, journal, walk in nature, or take yourself on a coffee date.
13. Learn to compost
If you're starting your holistic journey, one of the best (and cheapest) ways to become more eco-conscious is to start composting.
Almost half of what you throw out is compostable – vegetable offcuts, fruit, eggshells, tea, grains, bread, biscuits, and coffee grinds.
You can compost by throwing offcuts into a pile in a sunny corner of your garden. But a stationary compost bin is great for those with minimal space. Worm bins are also growing in popularity. Plus, they're small and ideal for people living in apartments.
14. Work with a holistic health coach
If you struggle with accountability, a holistic health coach can help you make lifestyle changes that stick.
A health coach can help you with various aspects of holistic living, whether exercise, nutrition, sleep hygiene, breathwork, journaling, or mindfulness.
Final thoughts
Incorporating holistic lifestyle practices into all areas of your life can help you appreciate your body, the environment, and life.
However, if holistic living is new to you, jumping in headfirst isn't sustainable. Instead, look at which areas of your life can benefit from a holistic approach. If you struggle with poor mental health, consider starting with mindfulness meditation and quality sleep.
Resources

DISCLAIMER: The Site cannot and does not contain medical / health advice. The medical / health information is provided for general informational and educational purposes only and is not a substitute for professional advice. Accordingly, before seeking any form of medical advice, diagnoses or treatment based upon such information, we encourage you to consult with your GP or other qualified health practitioner. You must never disregard professional medical advice or delay in seeking it because of something mentioned on this Site. The use or reliance of any information contained on the Site is solely at your own risk.